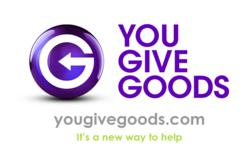 "People can use our site to set up and run their food drive at no cost and it only takes a couple of minutes to set one up and get it going"
Mendham, NJ (PRWEB) November 15, 2012
As soon as Sandy's destruction was evident, many people across the country asked the obvious question – how can I help out? YouGiveGoods.com was ready with an answer, setting up an internet hotline: http://www.yougivegoods.com/SANDY with clear information on how people could utilize the company's website to help out immediately, in a tangible, impactful way.
Since then, the company has partnered with a number of charities including the Salvation Army, United Aid Foundation, Volunteer Management Centers and Curbing Hunger, all of whom are running online food drives to make it easy for people to purchase food and get it into the food pantries, soup kitchens and shelters in the Hurricane's disaster zones.
Including these drives, the company reports that over 150 Sandy Relief drives have been set up on their site since Sandy struck. Drives have been set up by schools, businesses, clubs, families, friends and individuals – from all over the country.
"People can use our site to set up and run their food drive at no cost and it only takes a couple of minutes to set one up and get it going," according to Michael Connell, EVP at YouGiveGoods.com. "It's a great way for people and organizations to quickly pull their community together to help out."
And it's fast. The company has already delivered 8 tons of food to several food pantries in New Jersey, including a 4,500 LBS delivery to MEND, which operates 18 pantries in northern NJ. According to Jamie Anthony, Chairman of MEND, "Our pantries have been running on short supplies all year due to cutbacks in federal food programs and increased demand for assistance from those struggling due to the prolonged economic downturn. Since the storm, some of our pantries are operating daily with almost empty shelves and getting by on daily funding and food support. This quick delivery couldn't come at a better time for us."
"We've been working closely with all of our charity partners, but particularly the Salvation Army and United Aid Foundation, who have people on the ground and know where the most help is needed," said Patrick O'Neill, CEO of YouGiveGoods.
John Alex, who heads United Aid Foundation, echoed that. "UAF is focused on direct disaster aid, we partner with local charities to get the things they need to them as fast as possible. YouGiveGoods enables us to make that happen. "
UAF has raised 4 tons of food via YouGiveGoods to direct to pantries that are out or nearly out of food. One of those tons was delivered to a pantry in Bayonne, NJ that was literally out of food. According to Reverend Rose Cohen Hassan, "I called on Thursday to say that our pantry was out of food, YouGiveGoods called me back in about an hour and said they could make a delivery to us on Friday and that United Aid Foundation was going to provide us with 2000 lbs. of food. That's incredible."
When a drive is set up on the site, people can donate to it by purchasing food at the site. All of the food donated to a drive is delivered by YouGiveGoods shortly after the drive is over. Donors receive an email to let them know when their food has been delivered. They also receive a tax receipt.
Nicole Snyder started a drive called Jersey Strong. "YouGiveGoods was easy for me to use and their staff has been so incredibly supportive and speedy with assisting me. I grew up in Monmouth County & my entire extended family still lives at the shore. I'm currently living in Philly and have a 6 week old baby, so physically volunteering with relief efforts posed a challenge. The YouGiveGoods site made it incredibly easy for me to spread the word & bring food into the area that desperately needs help. I just started my drive last week and this week they are delivering the food I raised to people who need it now. It's great to know that all of the people who supported my drive are having such an immediate impact."
According to O'Neill, "Nicole's drive raised over a half ton in a couple of days with support from her family and friends. It's a great example of how someone can leverage their good intentions to help out." He continued, "We're hoping to see more people like that in the weeks and months to come. The recovery from Sandy is going to take a long time, particularly with winter coming. It's going to require ongoing support and we hope that we are able to continue to facilitate that."
YouGiveGoods is based in Mendham, NJ and is operated by a group of people who strongly believe in the importance of helping others in need. The company's website, YouGiveGoods.com, was developed to make it easier for people and organizations to set up and run in-kind charity drives, including food drives and animal shelter drives. The site provides free services to charities and makes it simpler for people to donate goods to the charities they want to support. The innovative technology platform is designed to inspire people to give and help others. Visit YouGiveGoods.com
Based in NYC, United Aid Foundation (UAF) is a registered 501(c)3 organization that provides direct aid to people in crisis in partnership with humanitarian relief organizations around the world. Disaster relief, human rights abuse, nutrition, housing, and education are its priorities.