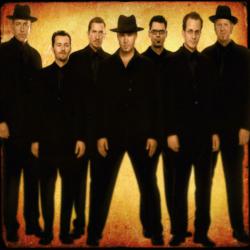 Modesto, CA (PRWEB) November 16, 2012
Less than a year after their debut, sold out performance at the Gallo Center for the Arts, Big Bad Voodoo Daddy returns to the performing arts center with their "Wild and Swingin' Holiday Party" concert on Tuesday, November 27, 2012 at 7 pm.
The show features one-of-a-kind holiday originals such as "Zat You Santa Claus" and "Rock-A-Billy Christmas" and the band's renditions of classics including "Blue Christmas," "Jingle Bells" and "We Three Kings."
Tickets are $20 to $50. Groups of 15 or more are eligible for a 15% discount. For tickets and more information, visit GalloArts.org or call (209) 338-2100.
Since their arrival on the music scene in 1993 in a residency at Los Angeles' Brown Derby nightclub, Big Bad Voodoo Daddy's live show and aggressive, musically perceptive approach has proven them over time to be the singular standout among the numerous bands that launched the Nineties swing revival.
The seven-man group forged a successful fusion of classic American sounds from jazz, swing, Dixieland and big-band music, building their own songbook of original dance tunes.
The concert is sponsored by Golden 1 Credit Union. The Gallo Center for the Arts' 2012-13 Premier Partner is Boyett Petroleum.