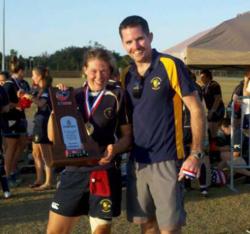 I knew a lot of athletes who worked for Gentle Giant Moving Company and loved it
San Francisco, CA (PRWEB) November 20, 2012
When seasoned Gentle Giant Moving Company Crew Chief Brandon Sparks left Boston in 2010 to launch and manage Gentle Giant's San Francisco branch office, Great Giant Moving Company, he left behind the MIT Varsity Women's Rugby team he had coached to a 2008 National Championship and the Beantown Rugby Football Club he had also coached. Although it was difficult to part ways with two teams full of potential, Sparks understood that opening this west coast branch office for Gentle Giant was an incredible opportunity to hire, train, and develop athletes in California's growing rugby community.
"I remember when I first arrived at Gentle Giant, my focus was on my rugby career," explains Sparks. "But after working on the trucks with other athletes with the same level of dedication and commitment, I quickly realized there was so much more to this company than just moving furniture. Managing Great Giant gives me the opportunity to support athletes the same way I was supported back when I first started in Boston."
Since Gentle Giant opened in 1980, Founder and CEO Larry O'Toole has hired athletes to work on the trucks with the intent of creating a company culture similar to that of a sports team's; focusing on teamwork, strength, and enthusiasm. Today, all 19 of Gentle Giant's offices are stocked with world class athletes, including Sparks' most recent San Francisco hire, Katy Augustyn.
Sparks started coaching Augustyn back in Boston when she made the move from Boston Women's Rugby to the Beantown Rugby Club during her Northeastern University Varsity Hockey off season. Sparks was intrigued by her natural athleticism and ability to quickly grasp the finer points of rugby, and made it a point to keep in touch with her to track her progress while he was in California. Shortly after Great Giant was launched, Sparks received a call from Katy while he was at a practice with the Berkeley All Blues Rugby Club, saying that she wanted to take her rugby career more seriously. Sparks made a promise to her right then, saying that if she moved out to San Francisco, he would give her a job on the trucks at Great Giant and continue training her to get her to the National level while playing for the Berkeley All Blues.
"When I lived in Boston and attended Northeastern, I knew a lot of athletes who worked for Gentle Giant and loved it," recalls Augustyn. "Brandon had always supported me as a player, friend, and coach, so when he told me about the opportunity to work at Great Giant and help me reach my goals, it seemed like a great idea. I can't thank my GG family or Brandon enough and am excited for the opportunity that has been presented to me."
Since Augustyn accepted Sparks' offer, she has spent every day working, training, and playing non-stop. All this hard work led the Berkeley All Blues to a National Championship last year, and Katy has been selected to play on the USA Women's Rugby National Team. She leaves for two weeks to face International opponents in Rome, Orleans, and Paris. For a detailed schedule and more information, visit the USA Women's Rugby website at http://usawomensrugby.org.
About Gentle Giant Moving Company, Inc.
Founded in 1980, Massachusetts Moving Company Gentle Giant is a premier residential and commercial mover, offering local moving, interstate moving, and international moving service. Named 2009 Independent Mover of the Year by the American Moving and Storage Association, one of the Boston Business Journal's Best Places to Work in Massachusetts in 2004, 2005, and 2006, winner of the 2006 International Torch Award for Marketplace Ethics by the Better Business Bureau, winner of the Better Business Bureau's Torch Award for Excellence in 2002, 2003, 2005 and 2008, nine-time winner of Boston Magazine's "Best of Boston," six-time winner of The Improper Bostonian's "Boston's Best Moving Company" award, twelve-time winner of the Angie's List "Super Service" award, and 2007 Top Small Workplaces award from the Wall Street Journal and Winning Workplaces, the company's services include craning, piano moving, complete packing services and unpacking services, and other related services. Gentle Giant offers storage facilities and dispatches crews from its 18 offices in California, Massachusetts, New Hampshire, New York, North Carolina, Rhode Island, Virginia, Washington, DC and Washington State. For more information, please call (617) 661-3333 or visit http://www.GentleGiant.com.