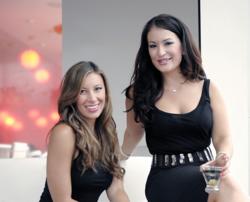 "Dating in LA has a unique set of challenges. People don't walk, we spend a lot of time in traffic, and LA's career-driven professionals are too busy to sift through endless profiles online, or hang in bars. But great singles are out there and we
Los Angeles, CA (PRWEB) November 16, 2012
Los Angeles based premiere matchmaking service for successful professionals, Three Day Rule, today announces an exclusive, invitation-only online dating platform. Pioneered by successful Matchmakers Talia Goldstein and Val Brennan, who have earned an unparalleled reputation for bringing together successful singles, Three Day Rule has amassed an impressive following among Los Angeles' elite singles looking for avenues that traditional dating sites do not offer. The site launches today in Los Angeles, with expansion plans in San Francisco, throughout Texas and the Southeast, and NYC early next year.
With over 3 million single people in Los Angeles, living a busy, fast-paced lifestyle, in a non-walking city, Los Angeles can be a particularly difficult place to date. Online dating has become a good avenue to get exposed to large quantities of people, but where mass market sites have focused on quantity, they have fallen short on providing the kinds of quality matches that singles are looking for, or added features that allow singles to express themselves.
"Dating in Los Angeles has a unique set of challenges," said Talia Goldstein, co-founder, Three Day Rule. "People don't walk, we spend a lot of time in traffic, and LA's career-driven professionals are too busy to sift through endless profiles online, or hang in bars. But great singles are out there and you will find them on Three Day Rule."
Unlike existing mass-market sites of yesterday, Three Day Rule has a number of key differentiators and special features. Most notably, the site is pioneered and run by a team of matchmakers, personalizing the experience and matching for each user. Three Day Rule employs a vetting process where a matchmaker that works for the site screens every potential member. Taking the personalization even further, each accepted member is assigned a matchmaker. The matchmaker provides matches, tips, and perks. Prices for membership vary, and at the premium member level, members also have the opportunity to email their matchmaker for dating advice or date suggestions, or chat with a matchmaker one-on-one for profile consultation.
Unlike traditional sites that limit members to static profiles, Three Day Rule also introduces a video feature on each profile that allows members to express themselves in a dynamic way.
The clientele on Three Day Rule includes successful, eligible and vibrant women and men who have traditionally shied away from online dating sites. The site's required application process ads an exclusivity element. Potential members are either referred to the site, are personally approached and invited by a team of highly selective Three Day Rule recruiters, or can apply to join.
After completing a personality profile and answering a series of questions, each applicant is reviewed by the highly qualified matchmaking team that understands that interests are just an element in making people click – chemistry, and real attraction are much more important.
Once accepted, a member is presented with personalized matches, and invited to join exclusive singles events at premiere, rotating venues throughout the city.
In addition to receiving matching services and joining special events, Three Day Rule members have an opportunity to take advantage of a special rewards program for activity on and off the site including products, activities, VIP memberships, getaways, and more.
"With Three Day Rule, we have amassed an unparalleled group or highly sought-after, single women and men," said founder Val Brennan. "We know our members are busy professionals working long hours and we are now marrying our experience as matchmakers with a website and user experience that is ideal for the successful, eligible single person, looking for their partner."
For more information on Three Day Rule or to join the site, please visit http://www.threedayrule.com
For interviews and questions, please contact:
Kristina Levsky
Influencer PR Group
Kristina(at)influencerprgroup(dot)com
323-842-1500
About Three Day Rule
Three Day Rule is a premiere matchmaking service, responsible for bringing together thousands of successful singles with their ideal mates for over three years. Founded by highly successful matchmakers, Talia Goldstein and Val Brennan, Three Day Rule is taking its successful matchmaking business and events company to the next level with the launch of an exclusive, members only online dating platform. Three Day Rule and its founders are regularly featured on NBC, ABC, CBS Radio, Playboy Radio, Refinery 29, Glo, and many other outlets.