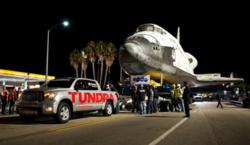 ADI (Arete Digital Imaging) is proud to be a part of this historic moment, "This is an occasion that goes beyond the bottom line...
Los Angeles, CA (PRWEB) November 16, 2012
On October 13, 2012, a Toyota Tundra Pickup Truck was wrapped with blazing graphics by ADI (Arete Digital Imaging), a company specializing in truck wraps and truck graphics. The full-sized silver pickup truck was emblazoned with large letters in red, covering its right and left side, spelling out the word "Tundra". Lower down the car doors were more letters spelling out "Tundra Endeavour" in the same bold, red color. The contrast between silver and red strongly reflected the momentous occasion.
In addition, the name "Endeavour" on the Toyota Tundra Pickup Truck graphics is a name that is still emblazoned in the memories of the former students of the McCall-Donnelly Elementary School. It was them who gave the Endeavour its famous name. And it was also one of their teachers, Educator/Astronaut Barbara Morgan who was selected to fly on the Endeavour. The Endeavour's first space mission was in May 1992, and the space shuttle's last mission was in May 2011.
After dramatic, low flyovers over landmarks across the country, the Endeavour lands at the LAX (Los Angeles International Airport) where it is delivered, awaiting its final trip through the streets of Los Angeles.
The Toyota Tundra was slated to pull the iconic Endeavour Space Shuttle on the last leg of its journey to the CSC (California Space Center) where both pickup truck and space shuttle were on permanent display by October 30, 2012. But before both vehicles, one meant for exploring land and one for exploring space, found their home in the CSC (California Space Center), logistics had to be ironed out to prevent a logistical nightmare.
The first leg of the journey for the Endeavour started at the LAX (Los Angeles International Airport), where it traveled 12 miles from the airport through the city streets to its final destination, the California Science Center. The last leg of the journey had the Toyota Tundra Pickup Truck (with a towing capacity of 10,000 pounds) towing the 300, 000 pound space shuttle past residential areas, brushing closely to the walls of homes and narrowly missing structures. People lined the streets and were united in their emotions for this larger-than-life space shuttle.
Much of the emotion could have sprung from the fact that the Endeavour was built on parts of the space shuttle Challenger, which exploded just 73 seconds after its launch on January 1986, resulting in 7 crew members killed in the explosion. The sight of the smaller vehicle, in this case, the Toyota Tundra, with striking truck graphics on all sides, pulling the massive space shuttle through tiny residential streets slowly, raised the level of emotions even more.
ADI (Arete Digital Imaging) is proud to be a part of this historic moment, "This is an occasion that goes beyond the bottom line because there is an intrinsic value to participating in a once-in-a-lifetime moment where a business gets to display its excellence nationwide. And it goes without saying that our custom truck wraps and truck graphics are worthy of the Endeavour Space Shuttle."