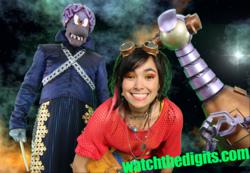 Few educational apps use decades of experience of a veteran teacher to build their curriculum. Geometry, angles division, are just some of the lessons we teach through storytelling. We're a company that wants to do well by doing good.
Portland, OR (PRWEB) November 16, 2012
Imagine an app that holds children's attention for close to an hour, lets them navigate an asteroid field, shoot rocks in the desert, and that actually teaches them math skills, too. Kids may not know they're learning while they're playing, but this app is now a new reality as the world's first appisode The Digits launches to the Itunes store on November 16, 2012.
Produced in Portland by Oregon native Scotty Iseri, the app, or "appisode" as Iseri coined it, represents a new method of educational storytelling. Iseri began the project as a fellowship with Center for Asian American Media (CAAM) after watching math comprehension drop in the US, with ages 7 to 11 being the critical age to capture students' attention. He saw apps trying but missing the mark on educational concepts, especially in ways that really grabs kids, and he hired a curriculum guides to make sure The Digits follows STEM (Science, Technology, Engineering and Math) curriculum.
Scotty wanted to make The Digits available to kids where they already are—on YouTube, on tablet devices, on their parent's phones, and tries to teach them a math lesson while they're playing. The result? The Digits is now available in a town near you, and downloads on this first round are free for this show dubbed "Sesame Street for the Youtube Generation".
The Digits is a next generation educational show that combines live action narrative comedy and interactive gameplay to introduce math concepts to children ages 7-to-11. The story features a cosmic rock band and features a strong female lead character, and a couple aliens as her math-learning bandmates. Together, they form The Digits and their mission is to fight an evil record exec who's out to make the galaxy stupid.
By combining interactive gameplay seamlessly into the narrative, the outcome of the game directly affects the outcome of the story. Unlike many educational apps, The Digits was created under the guidance of a curriculum designer and implemented by a 20-year veteran schoolteacher. The Digits is the first New Media project to be granted rebates from the Oregon Governor's Office of Film & Television.
The Digits delivers over 40 minutes of storytelling fun and exciting engagement for children, but also creates a network between parents and kids. Through a subscription service, parents receive updates on their child's educational progress in plain English and with simple talking points and activities that bring the curriculum into the student's every day life.
The design team includes talent who have worked on shows including "The Suite Life of Zack and Cody" and "Paranorman". The app's development was done by Battery Powered Games, whose team includes Dmitri Salcedo, who was also a developer for "Insanely Twisted Shadow Planet". The part of Pavi, lead singer and main character of the series, is played by Seattle actress Sara Castilleja. The part of Gorgolax is played by Joe Bolenbaugh, and Ray Ray is played by puppeteer Lance Woolen (Coraline, Paranorman). Cinematography is by Studio Pebble and artwork is by Eisner Award winning artists such as Shannon Wheeler (Too Much Coffee Man), Ron Chan (The Guild) and Derek Kirk Kim (The Eternal Smile).
"Television viewership is down and kids are more likely to have access to a smart phone than a desktop computer," says Iseri. "Instead of fighting for limited broadcast bandwidth, we want to go where our already audience is: on phones, tablets and YouTube."
"Most children's content (from TV shows to games) is funded by advertising, and the reality is that ad- funded programming does not have children's interests at heart," said Iseri. "This is a new business model for launching an entertainment product. We're a company that wants to do well by doing good."
Some other cool things about The Digits:

40+ minutes of video content packed into one free app
12 interactions with two mini games including asteroids and a door decoder
The web series is available to anyone with access to a computer as part of youTube for Schools, and kids can even ask homework questions to moderators on the channel
Kids control the outcome—can be longer or shorter and they can play over and over
Subscription service offering notifications for parents with talking points
The Digits is available on [Google Play for Android too