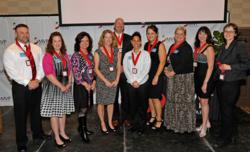 I strongly believe all of us become who we are because of life experiences and the way we react to those experiences. We can pick up the ball and run with it, or we can fumble our way through life. I chose to run. ~ Donald Carroll
Schenectady, NY (PRWEB) November 15, 2012
As part of MVP Health Care's fall brand campaign, MVP asked the community "Who Inspires You?" and received more than 150 nominations and 40,000 votes in our quest to find the Ultimate Game Changer. The contest—which was looking for people who make a significant difference in their communities by making them better, healthier places to live—concluded with an event on Saturday, November 10, honoring the top ten finalists and naming the Ultimate Game Changer.
Donald Carroll of Batavia, NY is the grand prize winner in the Ultimate Game Changer contest. Don, who is battling inoperable cancer of the stomach and esophagus, was not able to travel to Clifton Park for the event, but was there in spirit.
Don, who was orphaned at the age of five, said that the kindness of family, friends and strangers deeply moved him as a child and young adult, motivating him to "pay it forward" by sending local kids to summer camp, raising money to buy underprivileged kids toys and clothing at Christmas and funding college scholarships at Genesee Community College.
"I strongly believe all of us become who we are because of life experiences and the way we react to those experiences," Don said in a statement read by a friend at the event. "We can pick up the ball and run with it, or we can fumble our way through life. I chose to run."
Don and his former sixth grade teacher, Jerry Foster, who nominated him, have each won $1,000. Jerry plans to donate his prize money to the cancer support fund established to help Don with his medical and other financial obligations.
"I nominated Don because I've had the opportunity to see him grow from a quiet, shy sixth grader to a humble, compassionate man," said Jerry, who taught Don at Oakfield-Alabama Central School in Oakfield, NY. "I know of no one who believes more in 'paying it forward' than Don. I have always believed in Santa. His nickname is Don."
"All of the game changer finalists are examples of the kinds of everyday heroes MVP wanted to celebrate," said Denise Gonick, MVP's President of Operations. "Don's story, especially, is wonderfully inspiring. Despite all the hardship in his life and, now, his illness, Don has never stopped giving back and paying it forward. It's a reminder that wherever you are, whoever you are, you can make a difference."
At the awards dinner, MVP also celebrated the winner of its employee game changer contest, Laura Robinson, a team leader in MVP's Customer Care Center in Schenectady. The company's internal contest recognized employees who embrace working as team, go above and beyond to deliver excellence, make a difference in other employees' day-to-day lives and inspire others through their roles at MVP. Laura won an iPad loaded with wellness apps.
The Ultimate Game Changer Contest invited kids age 13 and over and adults in New York and Vermont to nominate someone they felt is making a significant contribution to their local community.
"We loved the 'game changer' theme because it resonates so well with our Generation Go brand," Gonick said.
MVP's Generation Go is about helping kids and families get moving, eat better and have fun. Find out more about Generation Go and see photos from the Game Changer awards dinner on Facebook at http://www.facebook.com/MVPGenerationGo.
The top 10 finalists in the Ultimate Game Changer contest were determined by online voting at http://www.MVPgamechanger.com and the winner was chosen by a panel of distinguished judges.
MVP would like to thank the judges:

Sara Wiseman, Promotions Manager at Radio Disney;
Jodie Fitz, healthy food blogger and creator of the Price Chopper Kids Cooking Club;
Todd Scheske, a pro cyclist, who started the MVP Health Care Elite Cycling team back in 2002;
Joy Dubin Grossman of RunVermont;
Gary Gait, lacrosse legend and coach of the Syracuse University's women's lacrosse team; and
Abby Wambach, Olympic gold medalist and five-time winner of the title of U.S. Female Soccer Athlete of the Year.
###
About MVP Health Care
Founded in 1983, MVP Health Care is a community-focused, not-for-profit health insurer serving members in the states of New York, Vermont and New Hampshire. Through its operating subsidiaries, MVP Health Care provides fully-insured and self-funded employer health benefits plans, dental insurance, and ancillary products, such as flexible-spending accounts, to more than 650,000 members. For more information, visit http://www.mvphealthcare.com.