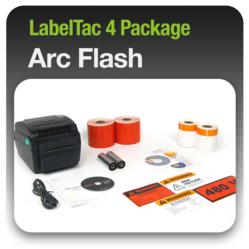 "We have taken the time to label all circuits and electrical areas by using the LabelTac 4 Arc Flash Package. It included everything needed to provide safety for the entire workplace."
Lake Oswego, OR (PRWEB) November 19, 2012
Electrical circuits for machinery and equipment are safety concerns when it comes to protecting qualified employees or service repair people when conducting maintenance work. Labeltac.com is making it easier and affordable to make the workplace a safer environment by offering a new product, LabelTac 4 Arc Flash Package. The package comes complete with a LabelTac 4 Printer, software, orange labels & headers and ribbon. The labeling system will print top quality labels in house at a fraction of the cost of ordering generic pre-made labels.
Companies need to become aware and implement NFPA 70E which is the standard for Electrical Safety in the Workplace. Thousands of disabling injuries and even deaths occur each year due to shock, arc flash, electrocution, and arc blast and most could have been prevented through NFPA 70E compliance. By using labels to identify hazards is a great solution for preventing accidents from happening. Labeltac.com also offers a free guide complete with a color-coded chart making it easier to understand NFPA hazards, their symbols, numbers and meanings. By simply labeling equipment or areas will create a safer work environment. An electrical maintenance worker commented, "We have taken the time to label all circuits and electrical areas by using the LabelTac 4 Arc Flash Package. It included everything needed to provide safety for the entire workplace."
Some factors of becoming a successful business is decreased accidents, continuous production and less repair costs. Lawsuits and liability costs due to accidents can add up to millions of dollars. Labeling electrical circuits can help companies adopt a preemptive approach to arc flash hazards and specifically address the potential of liability lawsuits, lost production and damage repairs.
For more information about arc flash labels or other safety products, please visit http://www.labeltac.com/arc-flash-labels/ or call toll-free (866)777-1360 to have all your answers answered by a professional representative.