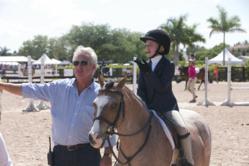 Willoughby, Ohio (PRWEB) November 15, 2012
Prestigious equestrian trainer Frank Madden and The Equestrian Center at Andrews Osborne Academy (AOA) are teaming up to offer an exclusive 2-day riding clinic, Saturday and Sunday, November 17th and 18th from 8 a.m. to 4 p.m. located on the Andrews Osborne Academy campus, 38588 Mentor Avenue in Willoughby.
Mr. Madden will be instructing riders on their own mounts on the flat and over fences, focusing on improving overall equitation and allowing the horse to be its best. Auditors will be able to watch and learn in an intimate and inviting setting.
Madden, a prestigious trainer and owner of the Old Salem Farm located in New York, stands out as one of the most successful and dedicated trainers of young and developing show jumping talent in the United States.
"We are so fortunate to have Frank as our featured trainer for our fall clinic," states Director of the AOA Equestrian Center, Laura Webster. "He is unequivocally one of the best trainers in the country for junior equitation and amateur jumper riders."
Frank serves on several national committees, including the United States Hunter Jumper Association Hunt Seat equitation Task Force, while simultaneously working to promote show jumping by judging, giving clinics, and developing potential sponsors for the sport. Madden and several of his top riders were also featured in the 2005 Animal Planet television series "Horse Power: The Road to the Maclay."
The AOA Equestrian Center clinic will feature three riding sections for Novice (2'6" - 2'9"), Intermediate (3 '- 3'3"), and Open (3'6" - above). While the riding reservations are sold out, auditing tickets are still available for those interested in observing the training program and joining Madden and the riders for lunch. The clinic schedule is as follows:
8 a.m. Registration Opens
9 a.m. – 11 a.m. Novice Division (2'6"-2'9")
11 a.m. – 1 p.m. Intermediate Division (3'-3'3")
1 p.m. – 2 p.m. Lunch
2 p.m. – 4 p.m. Open Division (3'6" and above)
Walk-ins will be accepted on a first come, first served basis beginning at 8am each day. Space is limited. Those interested in auditing the clinic are encouraged to call ahead to reserve a spot at 440-942-8700.
"This clinic promises to be one of the best training experiences in the country for riders hoping to expand their skills and knowledge," adds Webster. "It's quite a thrill to work with Frank and I'm certain clinic participants will leave the arena prepared to excel at the next level of their riding journey."
Andrews Osborne Academy (AOA) is an independent, coeducational, college preparatory day (age 3 to grade 12) and boarding (grades 7-12) academy near Cleveland, with a beautiful 300 acre campus located in Willoughby, Ohio. The academy serves over 380 students from 46 Ohio cities, 9 states and 20 different countries.
The Equestrian Center at Andrews Osborne Academy is an unparalleled facility. The Center opened in May 1999, and is a showcase by anyone's standards. The barn itself features 42 12' x 12' Loddon stalls, automatic waterers, tack rooms with individual lockers for each horse, 4 wash stalls, and 6 additional grooming areas. Our beautiful 300' x 300' outdoor arena can be converted into two or more large rings to accommodate everything from a large horse show to daily lessons. Outside the ring, scenic trails are available for use for boarders and within the lesson program. The Equestrian Center also houses two large indoor arenas. The main show arena is a 80' x 200' ring, and is attached to our main barn and another 80' x 200' indoor ring. Both indoor rings are equipped with judge's stands and heated bleacher areas.