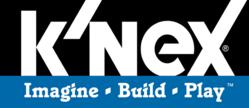 "K'NEX products have long been a favorite of parents and kids. Receiving acknowledgement of their educational value, safety, ability to inspire creativity and, notably, the enjoyment they bring to children is extremely rewarding."
Hatfield, PA (PRWEB) November 26, 2012
K'NEX Brands, the only US construction toy company focused on Building Worlds Kids Love®, is pleased to announce news of 10 prestigious toy awards earned by K'NEX building toy products in 2012. The 2012 awards end a year in which K'NEX found success with additions to its popular Thrill Rides and Mario Kart™ Wii lines in addition to success from the new Tinkertoy® and Angry Birds™ Building Sets.
President and CEO of K'NEX, Michael Araten said, "K'NEX products have long been a favorite of parents and kids. Receiving acknowledgement of their educational value, safety, ability to inspire creativity and, notably, the enjoyment they bring to children is extremely rewarding."
K'NEX Building Sets received awards from the prestigious Parents Choice Awards®, the Oppenheim Toy Portfolio®, Parents Magazine®, and many more. A full listing of awards follows.
The K'NEX 50 Model Building Set, named Best Building Toy of 2012 by DR. Toy, allows children to build anything they can imagine! Loaded with 700 Classic K'NEX parts for lots of open building fun, this set includes instructions for 50 unique models such as a sand castle, hot air balloon, sea creatures, trucks and more. Features 700 pieces made in the USA and is ideal for ages 7+. SRP $34.99
Chosen as Best in Play at Toy Fair 2012 by Parenting Magazine® and Best Toy of 2012 by Good Housekeeping Magazine® the K'NEX Atomic Coaster™ is nuclear fun! At 4-feet tall this dueling roller coaster offers over 1,250 pieces, 37 intense feet of track, 2 slick cars and a motor that lifts them into the air before they come shooting down the track in a daring race to the bottom! Recommended for ages 9+. SRP $70.99
Winner of the coveted 2012 Oppenheim Toy Portfolio Platinum Award and the 2012 Play on Words Award the Tinkertoy Transit Building Set features newly redesigned plastic pieces that snap together and stay together for long lasting play! Designed to encourage young builders to play and learn, children 3+ can create a train, garage, bridge and more or accelerate their imagination with other ideas! In this set you'll find the nostalgic Tinkertoy pieces you remember, plus unique parts such as bendable rods, wheels, and eyes, so your child can add personality to their creations along with an adorable buildable figure to encourage imaginative role play. Includes 150 durable, plastic pieces including made in the USA spools & rods and comes in a durable box with lid for easy storage and portability. Ideal for children ages 3+. SRP $43.99
The Parent's Choice Foundation® loved the Mario Kart Wii: Mario™ vs. Goombas Building Set so much it awarded it its 2012 FunStuff Award! This set allows kids to build Mario in his Standard Kart and race past the Goombas from the Mario Circuit Track. Includes the parts to build Mario, a Standard Kart with a super-fast, battery-powered motor, a Goomba obstacle and 2 collectible items from the game: a Mushroom and a Star! Also comes with 6 pieces of buildable, connectable track that enables you to combine this set with other sets from the Mario Kart Wii series to build even bigger tracks! Perfect for ages 6+. SRP $29.99
Parenting and Parents Magazine agree: Angry Birds Building Sets from K'NEX are among the top Toy Toys of 2012! K'NEX Angry Birds Building Sets let kids (and adults!), build and play with characters from their favorite app, bringing a mobile game favorite to life for the first time. Angry Birds building sets from K'NEX include buildable recreations of levels from the original Angry Birds app and th e new Angry Birds Space version of the game. Open ended play allows children to combine sets and build their own new Angry Birds world they can build and destroy! Recommended for ages 6+. SRP $10.99-44.99
Winner of the 2012 Oppenheim Toy Portfolio Gold Award the KID K'NEX Build-A-Bunch Building Set includes 66 fun, chunky, pieces—perfect for little hands! This set features lots of colorful KID K'NEX rods, connectors, blocks and special parts that are easy to stack, snap and plug together! Also includes building ideas for 30 models such as vehicles, bugs, animals, undersea creatures and more. When playtime is over, store the parts in the handy storage container for a quick and easy clean-up. Recommended for ages 3+, SRP $20.99
The KID K'NEX Undersea Friends™ Building Set, named 2012 Toy of the Year by Family Fun Magazine, allows your child to have a blast exploring the ocean with his fantastical undersea friends! Comes with 48 building pieces including blocks, rods, connectors, personality parts, and NEW KID'NEX figures. Children can simultaneously build two giant fish, a scuba diver, swimmer, and other underwater attractions. Building set comes in easily portable box with handle for take-along fun! Ideal for children 3+. SRP $20.99
About K'NEX Brands
Founded in 1992, K'NEX Brands, the world's most innovative construction toy company, was established to make and sell what has become one of the world's leading integrated construction systems for children. Winner of over 250 international awards and recognitions, K'NEX is America's building toy company focused on Building Worlds Kids Love, and encourages youngsters to "imagine, build and play." Since 1992, The Rodon Group, a subsidiary of K'NEX Brands, L.P., has manufactured over 31 billion parts for the K'NEX building toy system. For more information, please visit http://www.knex.com or http://www.rodongroup.com.