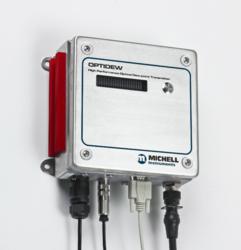 Rowley, MA (PRWEB) November 15, 2012
The Michell Optidew chilled mirror hygrometer is now available to assure precise humidity and temperature intake air control on some of the world's highest quality engine test stands. Humidity and temperature are important combustion air control parameters for evaluation of heavy duty, passenger, commercial, marine, high performance and fuel cell engines using traditional or alternative fuels.
The Michell Optidew offers a wide measurement range from 0.5% to 100% relative humidity at ambient temperature. For elevated temperature testing, the Optidew is capable of operating up to 130°C environmental temperature.
The Optidew hygrometer is based on the fundamental, optical dew point measurement principle for precise, long term drift free performance. The hygrometer's Dynamic Contamination Correction (DCC) system automatically eliminates the effects of particulate contamination in the sensor.
The Optidew's humidity sensor can be located remotely, up to 820 feet away from the meter body. Its humidity output can be connected directly to a data acquisition system. The sensor uses a corrosion resistant gold plated mirror while the meter enclosure is rated NEMA 4X weatherproof.
Every Michell instrument is delivered fully calibrated and traceable to National Standards. Michell maintains direct traceability to NIST through a UKAS accredited Humidity Calibration Laboratory. This satisfies the most stringent quality system requirements and gives ultimate confidence in the measurement being made.
Michell Instruments is an international leader in the field of moisture, humidity and oxygen measurement solutions. With over 30 years experience, Michell designs and manufactures a wide range of transmitters, instruments and systems capable of measuring trace moisture, oxygen and hydrocarbon dew point in a vast range of applications and industries including compressed air, power generation, process, oil and gas, petrochemical, pharmaceutical and many more.