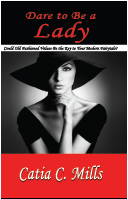 "A beautiful lady is an accident of nature.
A beautiful old lady is a work of art." - Louis Nizer
Frederick, MD (PRWEB) November 25, 2012
The new book by Catia Mills is now available through againstthecurrentministries.org, Barnes&Noble or Amazon.com. Against the Current Ministries is a new ministry that is designed to help men and women worldwide to stand up for moral standards in a shifting society. Through seminars, blogs and newsletters, it challenges Christians to think differently than the masses when it comes to making important personal decisions.
Dare to Be a Lady explores what it means to be a lady in a world where high moral standards are not often upheld and women often behave like men. It challenges women to embrace old-fashioned ideals to create a blessed life in today's changing culture. Catia Mills also raises important questions when it comes to what most Christians are watching and reading, and the effects unsavory contents have on their psyche, personal choices and ultimate consequences.
Through the pages of history and literature she explores timeless examples of what makes a woman's life a success. She introduces two types of women, two very different choices and lifestyles, both reaping consequences of their actions. The reader then has a clearer understanding of what path to take to live a blessed life until the end.
Dare to Be a Lady explains how a woman can pursue her dreams and goals, have all the accolades she desires, and still have a fulfilling personal life. She concludes that the secret to a happy personal life is in prioritizing it, getting rid of certain negative influences and following success-proven principles that will outlast women through future generations.
Dare to Be a Lady
by: Catia Mills
ISBN: 978-1-61863-350-7
Soft Cover Price: $15.95
About the Author:
Catia Mills is a teacher, public speaker, and successful business owner. She lives in Frederick, MD with her husband Shawn and their four children, Tatiana, Caroline, Reagan, and Elena.