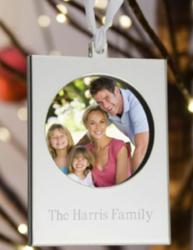 Pflugerville, TX (PRWEB) November 16, 2012
Popular personalized gift store Sophia's Collection has just announced their festive season bonanza in the form of an excellent sweepstakes contest. The winner of this contest takes home an engraved Christmas ornament and three runner ups would receive gift cards worth $5 each. Those interested in trying out their luck can send entries till the 20th of November by visiting the company's official Facebook page. Sophia's Collection is one of the most renowned online destinations for different types of personalized gift items that are available in all price ranges. Since its inception in the year 2011, the store has built a great reputation as a trusted resource for personalized birthday gifts, wedding candles, Christmas gifts, and much more.
Official sources have informed that any US citizen above the age of 18 is eligible to be a part of the sweepstakes. Most importantly, there is no need to purchase anything from the company to take part in this contest and odds of winning would not increase by making a purchase. The winners of the contest would be decided by random drawing from all entries received by the company. Announcing the launch of the sweepstakes contest, the Product Manager of the company Grace Win said, "We are proud to announce the launch of our sweepstakes contest. Visit our Facebook page to know more about this contest". She also announced the arrival of new items for personalized Christmas gifts, as a part of the company's preparation for the upcoming holiday season.
The unique gift items available at Sophia's Collection are available in different shapes, sizes, and personalized styles. The most sought after products from the store includes bracelets, rings, lockets, and pocket watches, pub signs, mugs, flasks, travel gear, wedding favors, candles and sports/games related items, etc. The buyers at the store can preview their gifts before ordering by adding photos, graphics, and other details. The website also has a wish list system that helps shoppers share their gift ideas with others.
About the Company: Sophia's Collection is an acclaimed online store offering unique, personalized gifts for all occasions. Handpicked collection of personalized gifts available here can be engraved with own message or photo for any occasion and event. The store is well known amongst buyers for providing fantastic gift ideas for Christmas, wedding, anniversary and more.