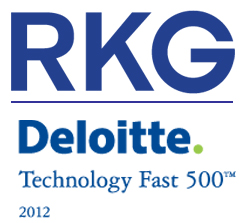 While our technologies enable our team to gracefully manage big data sets, it is our exceptional people that truly set us apart.
- George Michie
Co-Founder & CEO
Charlottesville, VA (PRWEB) November 15, 2012
Continuing to demonstrate strong growth, RKG|Rimm-Kaufman Group has been named to the Deloitte Technology Fast 500 list for the second year in a row. RKG landed at #403 on the 2012 list, which highlights the fastest growing technology companies in North America based on percentage fiscal year revenue growth from 2007 to 2011. The ranking places RKG as one of the top digital agencies on the list and #51 among the entire Internet category.
In order to qualify for the Technology Fast 500 list, companies must also own proprietary intellectual property or technology. RKG has built and developed sophisticated bidding and marketing campaign management tools, which have helped deliver industry-leading results across its client base.
RKG's technology has proven to be efficient, flexible and highly scalable, allowing advertisers to turn millions of data points and signals into actionable insights for paid search, SEO, display, social and other online channels.
According to RKG Co-Founder and CEO, George Michie, technology is just one of the drivers of RKG's success. "While our technologies enable our team to gracefully manage big data sets, it is our exceptional people that truly set us apart," said Michie. "Without insightful, experienced analysts applying their marketing acumen, even the best marketing tools aren't going to deliver the kind of performance our clients have come to expect."
"RKG is excited to make the list for a second year in a row," added Ryan Gibson, VP of Marketing for RKG. "Growth is not something that we set out to achieve. We've worked to provide the best online marketing results for our clients. The growth we've experienced is a happy testament to the dedication of our team members and the support our clients have shown us by choosing RKG year after year."
About RKG
RKG is a full-service digital marketing agency that combines superior marketing talent with leading edge technology to create the industry's most effective data-driven online marketing solutions. Founded in 2003, RKG manages PPC, SEO, comparison shopping, social media, display advertising, and attribution for retail, travel, financial and B2B organizations, ranging from start-ups to Fortune 500 companies. RKG is a privately held company with offices in Charlottesville, VA, Bend, OR, San Francisco, CA and Boston, MA. For more information visit http://www.rimmkaufman.com or follow the company on Twitter @rimmkaufman.