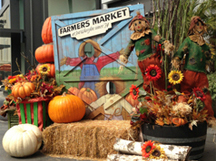 This is a delicious way for visitors to see and experience the Farmers Market.
Los Angeles, CA (PRWEB) November 16, 2012
Even skeptics agree that Autumn in L.A. is wonderful. While the skies are still crisp blue, the weather is milder. Luscious fall colors and holiday lights and décor provide a wonderful backdrop to enjoy seasonal dishes from the artisan butchers, bakers and candymakers of the Original Farmers Market in mid-city Los Angeles.
The Autumn At The Market Food Tasting Tour represents a departure for Melting Pot Tours, because it is shorter in duration and available at a price of $39 per person, ($25 per child) including of course, all the delicious food.
"We wanted to offer a food tour experience that appealed to both the visitor with limited time and to folks who are unfamiliar with the culinary tour concept," explains Lisa Scalia, Melting Pot Tours Owner. "We believe this tour entices on two levels - its compactness in terms of length and its affordable price point."
Sister, co-owner and Chef Diane Scalia adds, "This is a delicious way for visitors to see and experience the Farmers Market, and they will surely walk away from this tour with a deeper appreciation for one of L.A.'s most beloved landmarks."
The Original Farmers Market is widely regarded by locals to be L.A.'s best restaurants and grocery store. It is also recognized as an important cultural and historical treasure best experienced on a multi-sensory level. The Autumn At The Market Tour offers such a multi-sensory experience with its delicious food tastings, fun and informative narrative and great camaraderie among an eclectic mix of locals and international travelers.
Says Lisa, "Our tours attract locals along with a wonderful mix of visitors from Australia, Europe, South America, and Asia as well as from many cities within the United States. It's a very cool adventure to share with visiting family and friends, especially this holiday season."
This epicurean 2-hour stroll all takes place within the Original Farms Market. Guests are regaled with the Market's fascinating history, stories of the legacy families who have been a part of the Market since its beginnings in 1934, and tastings of signature items from a minimum of eight Farmers Market food stalls (ethnic eateries, gourmet grocery, fresh produce stands, a donut shop, an artisan candy store, the Market's original sandwich counter, a homemade ice cream shop and more).
Hungry visitors to Los Angeles interested in learning more about Melting Pot Food Tours may visit us here. Private groups of 10-50 are welcome for tours, and may contact Lisa Scalia at 424.247.9666 for more details.
Melting Pot Food Tours was founded by native Angeleno sisters Lisa and Diane Scalia, who share a passionate desire to put Los Angeles on the map as a world-class epicurean destination. Their pure intention is to acquaint locals and tourists with extraordinary neighborhoods and the foods that make them so special and unique. Inspired by the rise in culinary and heritage tourism, and America's new invitation to visit its Land of Dreams, Lisa and Diane Scalia are joyfully committed to showcasing the rich culinary diversity that is Los Angeles.