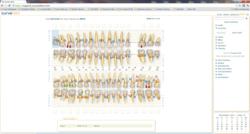 The greatest advantage is the frequency and speed at which we can deliver new features and enhancements to our customers.
Orem, UT (PRWEB) November 17, 2012
Curve Dental, developers of web-based dental software, announced the release of version 4.14, the company's latest software upgrade. With version 4.14 customers can now edit deductible estimates and paid amounts when posting insurance payments, which can reduce the amount of time required to complete this important task.
"Perhaps the greatest advantage of web-based dental software is the frequency and speed at which we can deliver new features and enhancements to our customers," said Ian Zipursky, President of Curve Dental. "Version 4.14 provides our customers with new features and enhancements that our customers need to become even more efficient in managing their practices. Our customers see regular and frequent improvements to the software every three to four weeks without the hassle of installing upgrades. Whenever they login to use the software they're always using the latest features and capabilities."
Version 4.14 also includes changes to the software's Period Summary Report, changing the layout and terminology to make it easier for customers to view and interpret the displayed figures. Improvements to the layout were accomplished by splitting the report into two columns, one for transactions with account credits and one for transactions without account credits, and by standardizing terminology. Additionally, version 4.14 includes 11 more enhancements that improve functionality, address customer requests and advance the user experience. Release details can be viewed at blog.curvedental.com.
About Curve Dental, Inc.
Founded in 2005, Curve Dental provides web-based dental software and related services to dental practices within the United States and Canada. The company is privately-held, with offices in Orem, Utah and Calgary, Alberta. The company strives to make dental software less about computers and more about the user experience. Their creative thinking can be seen in the design of their software, that's easy to use and built only for the web. Dentists can call 888-910-4376 or visit http://www.curvedental.com for more information.