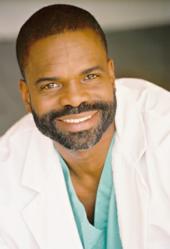 Beverly Hills, CA (PRWEB) November 20, 2012
At its 8th Annual Small Business Gala on November 8, 2012, the Regional Black Chamber of Commerce San Fernando Valley (RBCC) presented Dr. Bill Releford, D.P.M., with its 2012 Leadership Award. Actor, director, and producer Willard Pugh was a fellow honoree at the RBCC Awards Dinner of Recognitions.
The event brought together small, minority and women-owned business owners from across California, as well as dignitaries from state and local government and other notable guests. Says Dr. Releford, "It was a special evening, and I am honored to have been recognized by the RBCC and so many others. It is my hope, through this award, that I can continue to raise health awareness in underserved communities, and decrease the incidence of diabetes."
Says Mayor Antonio Villaraigosa, in a certificate of recognition, "As Mayor of the City of Los Angeles, and on behalf of its residents, it is my pleasure to recognize you on being honored with the Lifetime Achievement Award…I am pleased to join with other members of the community in recognizing your accomplishments throughout the years."
Dr. Releford received similar commendations on this award from California Senator Curren D. Price, Jr., Member of Congress Karen Bass, Assembly Members Holly J. Mitchell and Mike Davis, and the Board of Supervisors of the County of Los Angeles.
About Dr. Releford
Dr. Bill J. Releford, a podiatric surgeon based in Los Angeles, is a graduate of the Temple School of Podiatric Medicine in Philadelphia. He began practice in 1990 and established the Diabetic Foot Institute. The extraordinarily high number of diabetes-related amputations experienced in the African American community inspired Releford to dedicate his life to diabetic limb salvage, and to developing innovative medical as well as advocacy strategies to increase health awareness and decrease diabetes and the amputation rate in underserved communities. In October 2007, Dr. Releford launched The Black Barbershop Health Outreach Program to address health care disparities among African American men. Its mission is to empower African American men to better understand and prevent diabetes, high cholesterol and hypertension through screening, education, and referrals to local health-care resources.