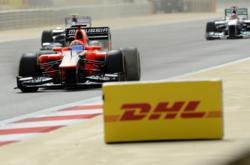 Austin, TX (PRWEB) November 16, 2012
With the Formula 1 United States Grand Prix kicking off in Austin today, DHL is once again geared up for the meticulous execution of one of the most challenging logistics operations in the world of sports. As the official logistics partner for Formula 1, DHL is utilizing its global network, expertise and resources to transport the Formula 1™ cars between Abu Dhabi and Austin for this next race.
DHL is responsible for all of the freight movements for the Formula 1 teams, including the transportation of two racing cars per team, 28,600 tires, engines, spare parts, 1,100 radios and headsets and over 1,700 liters of fuel in fireproof canisters. In total more than 66,130 pounds of cargo per racing team is shipped to Austin.
"We are excited to welcome back Formula 1™ United States Grand Prix to Austin. As the global Official Formula 1™ Logistics Partner, we recognize that Formula 1™ needs a trusted partner who can deliver fast, flexible and reliable support for the world's biggest motorsport event," said Christoph Remund, CEO, DHL Global Forwarding US. "By leveraging our global network, DHL has the solutions-driven expertise to ensure that everything from race day supplies to customers' freight arrives in time."
For the Formula 1 United States Grand Prix, which is the 19th round of the 2012 FIA Formula One World Championship™, DHL is once again responsible for all aspects of the logistics: the transportation of racing cars, pit and TV equipment plus equipment for the Formula One Paddock Club™ at Circuit of the Americas.
Everything has to be done at top speed, because the previous race took place less than two weeks earlier in Yas Marina, Abu Dhabi. During the course of the year, a team's racing cars will be transported over 85,127 miles between the 20 Grand Prix™ venues.
DHL is well equipped for this race against time, a point that is reinforced by its backing of the DHL Fastest Lap Award. DHL has an 'Extra Services Team' standing by to meet the special requirements of teams, organizers and sponsors. Deliveries to and from the track can be made within 24 hours by express flights. An on-board courier accompanies any urgent package throughout the journey, expedites clearance through Customs and takes it by helicopter directly to the paddock.
The global DHL network leverages all modes of transport and can call on planes, helicopters, trucks and even boats at short notice to support urgent shipping requirements across all the world's continents. At the same time, the company's experienced specialists on the ground are able to ensure that the transport of a new part is not delayed unnecessarily by local conditions and regulations.
– End –
DHL – The Logistics company for the world
DHL is the global market leader in the logistics industry and "The Logistics company for the world". DHL commits its expertise in international express, air and ocean freight, road and rail transportation, contract logistics and international mail services to its customers. A global network composed of more than 220 countries and territories and about 275,000 employees worldwide offers customers superior service quality and local knowledge to satisfy their supply chain requirements. DHL accepts its social responsibility by supporting climate protection, disaster management and education.
DHL is part of Deutsche Post DHL. The Group generated revenue of more than 51 billion euros in 2010.
For more information: http://www.dp-dhl.com
The F1 FORMULA 1 logo, F1, FORMULA 1, FIA FORMULA ONE WORLD CHAMPIONSHIP, GRAND PRIX and related marks are trade marks of Formula One Licensing BV, a Formula One group company. All rights reserved.