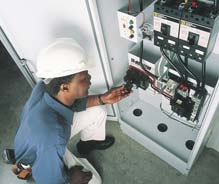 Achieving the stringent requirements of AS9100 Rev C is part of our company's ongoing quality improvement initiative.
Transtector Systems achieves AS9100C Certification (PRWEB) November 21, 2012
Transtector Systems, Inc., a Smiths Interconnect business, today announces the successful completion of AS9100 Rev C certification. Already recognized as a premier supplier of high-quality surge and electromagnetic pulse (EMP) protection, the award of AS9100 Rev C demonstrates Transtector's commitment to superior product quality and customer satisfaction.
AS9100 is a globally recognized quality management standard specifically developed for the aerospace industry, addressing its critical need for uncompromising quality and safety. The standard incorporates all provisions of ISO 9001:2008 in addition to more than 100 requirements specific to civil and military aviation product safety and reliability.
"Achieving the stringent requirements of AS9100 Rev C is part of our company's ongoing quality improvement initiative," states Devin Samuelson, Vice President of Quality and longtime veteran of the aerospace industry. "Our commitment to measure and improve the effectiveness of our processes as mandated by AS9100 ultimately benefits all of our customers, not just aerospace clients."
In addition to aviation and defence markets, Transtector and PolyPhaser surge and EMP protection solutions support critical systems in the wireless telecommunications, commercial facilities, manufacturing/automation, rail, energy and medical industry.
As part of the certification process, Transtector Systems is now listed in the Online Aerospace Supplier Information System (OASIS). Viewable by aerospace and commercial customers, this database contains supplier and audit assessment data for all companies who hold an accredited certification in any of the Aviation Quality Management Systems (AQMS) series of standards.
About PolyPhaser | Transtector
PolyPhaser | Transtector Systems lead the industry with a comprehensive product portfolio and specialized expertise in consulting, design and manufacturing of RF, AC, DC, data and signal surge protection, communications power cabinets, EMP protection and power quality engineering services. PolyPhaser | Transtector Systems provide valuable end-to-end power and signal integrity solutions for markets that include telecommunications, medical imaging, transportation, energy, security and the military.
About Smiths Interconnect Smiths Interconnect http://www.smithsinterconnect.com is a leader in technically differentiated electronic and radio frequency products that connect, protect and control critical systems for the wireless telecommunications, aerospace, defense, space, medical, rail, test and industrial markets. It is part of Smiths Group http://www.smiths.com, a world leader in applying advanced technologies for markets in threat