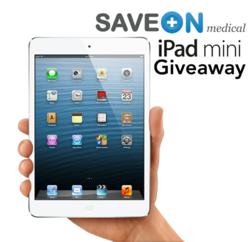 Win a free iPad and share the news about affordable health care shopping at Save On Medical
Tampa, FL (PRWEB) November 15, 2012
With the addition of over 200 new providers across the country on Save On Medical's website, they are hosting an iPad giveaway to promote the site to new visitors. People are invited to help make this dream a reality by:
1.Providing the name of a radiology provider that should be on Save On Medical
2. Liking Save On Medical on Facebook
3. Or referring someone to the website and asking them to tell them via the Save On Medical Facebook page or Twitter feed
Anyone who participates in any of these tasks via the following link (http://promos.saveonmedical.com/sign-up-for-a-free-provider-demo/) will be entered to win one of the two new iPads they will be giving away. The giveaway will run from November 15th until December 31st.
Most Americans are looking for affordable healthcare options from high quality providers they can trust. At Save On Medical, it is believed that every patient in every city across the country deserves clear access to health care information where they can easily schedule appointments online and even pay for their service ahead of time. Quality and price transparency are key, and Save On Medical provides it in more than 20 states.
Visit the Save On Medical website to search for providers in your area today.
About Save On Medical
Save On Medical is a patient tool similar to Expedia for travelers. The website allows patients to price shop, compare and book health care procedures online. Patients are able to search for medical services by price, quality and convenience with the help of the SOM Docometer. By comparing average costs of services in the patients' region, Save On Medical allows for pricing transparency in the health care market, helping the patient to decide what is important to them when it comes to their care. Save On Medical patients can easily schedule appointments and pay for services stress-free and at a fraction of the price, in a time where health care costs are high and price transparency is seemingly impossible.