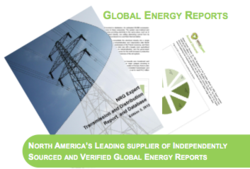 Australia is expected to experience significant clean energy investment.
(PRWEB UK) 19 November 2012
Here are the top energy facts for Australia:

Australian's large land mass can support clean energy infrastructure. [1]
The Australian government's 20% renewable energy target sparked $18.5 billion in clean energy investment. [2]
The latest initiatives are expected to drive another $8.8 billion investment by 2030. [2]
90% of Australia absorbs over 1,950 KWh of sunlight per metre per year, making it ideal for solar. [1]
Strong westerly winds up to 10 metres per second hit the southern Australia coast, opening up opportunities for wind energy [1]
Temperatures reach around 280°C at up to 5km underground, creating a strong geothermal resource. [1]
Australia's strong growth was supported by import demand from Asian economies, their major exporting markets. [1]
Australia's close proximity to Asia's rapidly growing economy has allowed trade to flourish, China overtaking Japan as Australia's No.1 trading partner from 1972-82. [3]
Many facts therefore point to clean energy growth in Australia. Investment in this area looks promising due to strong encouragement from the government and opportunities to exploit the natural landscape by using new technologies. The growth of renewable projects across Australia will be able to provide significant amounts of clean energy to their energy grid.
To access in-depth energy data on Australia or another country of your choice visit http://www.NRGExpert.com
NRG expert provides country specific data and reports regarding energy investment, energy growth and energy analysis.
For further energy data and information NRG Expert provides the following reports.
>> Geothermal Report – market research
>> Solar PV Report – market research
>> Wind Energy Report – market research
Or contact:
Edgar van der Meer
NRG Expert +1 (416) 840-5847
+44 (0)20 8432 3059
Background information
NRG Expert is a London and Toronto based energy intelligence and market research publisher. NRG Expert provides up to date energy data, information and analysis on worldwide energy markets, including electricity, natural gas, coal, nuclear, renewable energy, water and waste, clean energy, energy investment and all elements of energy infrastructure.
[1] Source – Australian Government, [2] Source – Brisbane times, [3]abc.net