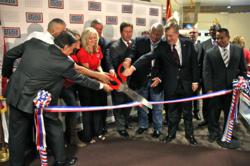 As one of the busiest airports in the country, this center will offer Arizona-based service men and women — as well as those passing through to their final destinations — a much-deserved place to relax and unwind.
Phoenix, AZ (PRWEB) November 15, 2012
Senior military leaders and local officials including Phoenix Mayor Greg Stanton, Major General Hugo Salazar, Adjutant General with the Arizona National Guard, and Medal of Honor recipient Michael Thornton, were among the more than 150 guests on hand to celebrate the grand opening of the new and improved USO Arizona today.
"We are so proud to have a USO here at Phoenix Sky Harbor and excited that now our troops will have even more space to relax when traveling through America's Friendliest Airport," said Mayor Stanton.
Previously located in Terminal 2 of Phoenix Sky Harbor International Airport, USO Arizona now resides in Terminal 4, which sees 80 percent of the airport's traffic. The center is also three times larger than the previous space, affording the USO the opportunity to better serve troops and military families providing the goodness needed to lift their spirits when they need it most.
"We are proud to be a part of the operations of the 6th busiest airport in the country," said John Hanson, USO Senior Vice President. "This center is part of a network of more than 160 locations around the world and we have been at their sides, as troops have traveled, since World War II. For a number of years a great group of volunteers ran a military hospitality room here and did an outstanding job. When we were asked to bring the USO here we couldn't have been happier."
USO Arizona also has a unique design with Terminal 4 escalators running through the Center, carrying Sky Harbor passengers from arrival gates on level three to the baggage claim on level one- giving civilians a glimpse into the great service and comforts of home that the USO provides to our nation's military and their families. USO Arizona was made possible by generous donations from the community, an effort led by TriWest Health Care Alliance and American Airlines, the official airline of the USO.
"As one of the busiest airports in the country, this center will offer Arizona-based service men and women — as well as those passing through to their final destinations — a much-deserved place to relax and unwind," said TriWest President and CEO David J. McIntyre, Jr. "TriWest is proud to support the USO and this fantastic center as a thank you to service members and their families who sacrifice so much in defense of our nation."
With more than 3,000 square feet of space, the improved center features a large kitchen area, movie room, childrens play area, computers and traditional ammentieis such as free wi -fi and phones to call home. In addition to providing a home away from home for our nation's traveling military and their families, USO Arizona will also support the thousands of service men and women currently residing in the Valley of the Sun through core USO programming such as the United Through Reading's Military Program, With You All the Way kits, Operation USO Care Packages and outreach to local military installations like Luke Air Force Base in Glendale, Arizona.
"At American Airlines, we have a long history of supporting U.S. military members, veterans and their families," said Bernie Willett, American's Director – Community Programs. "We're proud to partner with the USO year-round through programs that allow our generous customers and our people an opportunity to give back to those who sacrifice so much for our freedom. The new USO Center at Phoenix Sky Harbor International Airport will provide service members a place to rest and relax while traveling, a meaningful comfort that is very well deserved."
USO Arizona will be open daily from 8:00am to 8:00pm.
For more information about USO Arizona, and USO Centers around the world, visit http://www.uso.org.
Click here for full press kit and photos from today's ceremony.
# # #
About the USO
The USO (United Service Organizations) lifts the spirits of America's troops and their families millions of times each year at hundreds of places worldwide. We provide a touch of home through centers at airports and military bases in the U.S. and abroad, top quality entertainment and innovative programs and services. We also provide critical support to those who need us most, including forward-deployed troops, military families, wounded warriors and their families and the families of the fallen.
The USO is a private, nonprofit organization, not a government agency. All of our programs and services are made possible by the American people, support of our corporate partners and the dedication of our volunteers and staff. In addition to individual donors and corporate sponsors, the USO is supported by President's Circle Partners: American Airlines, AT&T, Clear Channel, The Coca-Cola Company, jcpenney, Kangaroo Express, Kroger, Lowe's, Northrop Grumman Corporation, Procter & Gamble, and TriWest Healthcare Alliance and Worldwide Strategic Partners: BAE Systems, The Boeing Company, Lockheed Martin, Microsoft Corporation and TKS Telepost Kabel-Service Kaiserslautern GmbH & Co. KG. We are also supported through the United Way and Combined Federal Campaign (CFC-11381). To join us in this patriotic mission, and to learn more about the USO, please visit uso.org.