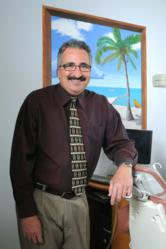 (PRWEB) November 16, 2012
Dr. Richard Amato is a specialist in periodontal disease treatment to patients suffering from various stages of gum disease. In the early stages, scaling and root planing is an excellent treatment to stop further progression of the disease. The procedure may be necessary when there is calculus or tartar on the roots of the teeth. This can happen as the gums begin to pull away from the teeth, creating deep pockets where bacteria gather. Advanced stages can benefit from LANAP or laser periodontal therapy.
Over half of American adults suffer from some degree of gum disease. The first step is a proper diagnosis with a Periodontist, such as Dr. Amato, who can accurately diagnose and determine the proper treatment. It is common for gum disease to be under treated or not properly diagnosed. When someone has gingivitis, one of the earliest signs may be gums that bleed easily. Then inflamed gums pull away from the teeth, increasing the depth of the pockets leading to periodontitis. When a person goes in for a checkup, the hygienist often measures the depth of the pockets to alert the dentist or periodontist to the possible need for periodontal disease treatment.
During the scaling and root planing procedure, hand instruments, as well as ultrasonic tips, may be utilized. Local anesthetic may also be used to numb the area. The tartar is removed from the roots of the teeth below the gum line to create a smooth, clean surface for the gums to reattach to. Maintaining proper dental care will help the gums heal properly so they no longer bleed and are pink and firm. The procedure removes the plaque or tartar where bacteria multiply, which may stop the progression of gum disease.
Because most adults may have periodontal disease to some degree, it is important to become educated on the proper method of brushing and flossing teeth and be motivated to stick with it. Many Periodontists also recommend daily use of an antiseptic mouthwash and a three month recall interval. For more information about different periodontal disease treatment procedures visit us at http://www.connecticutperiodontist.com.
Dr. Richard Amato is a periodontist offering patients personalized dental care for Monroe, Connecticut since 1989. Dr. Amato received his Doctorate of Dental Surgery degree from Stony Brook University where he was awarded the School of Dental Medicine Department of Periodontics Award for Excellence in Periodontology. Dr. Amato completed a specialty post-doctoral residency and received his Certificate of Proficiency in Periodontics from Eastman Dental Center at the University of Rochester. He is part of one percent of dental professionals providing the most recent FDA cleared laser procedure for gum disease and periodontal treatment. To learn more about Dr. Amato and his dental services visit his website at http://www.connecticutperiodontist.com and call (203) 712-0917.