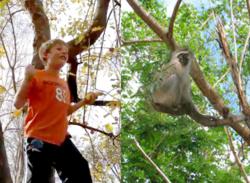 "The wonderful part of an Africa safari with kids is everybody has fun," says AAC's Redding
Denver, Colorado (PRWEB) November 16, 2012
A lion hunting in darkness, penguins in winter and summer, and a leopard tackling a hippo are a few of the animal videos currently entered in the new "Monkey See, Monkey Do – African Safari Contest" from Africa Adventure Consultants in cooperation with South African Tourism and South African Airways. Families enter to win the safari grand prize by submitting a brief video by January 31, 2013 of kids acting like a favorite animal they might see on safari in South Africa. Families can also learn about South Africa's diverse wildlife and culture and win weekly prizes by entering the Monkey See, Monkey Do – African Safari Contest Quiz, where they answer family-friendly weekly questions to win African wildlife videos, books and games.
"The underlying goal of the contest is to introduce families to South Africa as an amazing family vacation destination," says Kent Redding, co-founder and president of Africa Adventure Consultants. "Unlike some family travel where parents suffer through it so the kids can have fun, the wonderful part of an Africa safari with kids is everybody has fun," adds Redding, who took his two sons to South Africa over their last summer vacation.
The "Monkey See, Monkey Do" grand prize is a 10-day family safari for four to South Africa and includes airfare from JFK or Washington Dulles on South African Airways, deluxe accommodations in lodges and hotels, and meals. The itinerary includes a stay at Cape Town's Radisson Blu Hotel Waterfront with family-friendly city tours, a Table Mountain cable car excursion, a visit to the Two Oceans Aquarium and a township visit with a local musicians drumming experience. Winners will then have two days at Grootbos Private Nature Reserve on the famous Garden Route including beach fun, treasure hunts and horseback rides, caving and nature hikes, and penguin viewing and whale watching (seasonal). Guests will finish at intimate Etali Safari Lodge in Madikwe Game Reserve for multiple game drives and the chance to see favorite African wildlife such as lions, elephants and giraffes up close.
The Top 25 video entries as selected by online voting will be viewed by a panel of judges, who will determine the grand prize winner based on most quality, creativity and humor. The grand prize safari winner will be announced on or about February 15, 2013. Contestants must be 18 to enter or have reached the age of majority in their legal state of residence. Otherwise, they can enter with parental permission and a parental email address or Facebook account. Videos can be uploaded on Facebook or on the Monkey See, Monkey Do – African Safari Contest website, via YouTube or Vimeo. Full contest details and rules are available on the contest website.
South Africa is a perfect family vacation destination with excellent family-friendly accommodations that accept children of all ages and across a wide range of budgets. Many hotels and lodges offer swimming pools as well as activities designed with families in mind. Families can swim with penguins, visit a monkey sanctuary, take a cable car up Table Mountain, ride ostriches, zipline, go on safari and more. Finally, South Africa offers plenty of malaria-free safaris for those who prefer not to take anti-malaria medication. For more ideas and information about South African family safaris, visit the South Africa Tourism website at http://www.southafrica.net.
Company Information: Africa Adventure Consultants is a leading safari company specializing in crafting custom itineraries to 13 countries in Africa, from classic photo safaris and adventure trekking to luxury honeymoons and family holidays. The staff at Africa Adventures Consultants has lived, worked, and traveled throughout Africa, giving them an insider's perspective on how to create the best safaris in the continent's top destinations. AAC offers personalized tour planning to Botswana, Egypt, Ethiopia, Kenya, Malawi, Mozambique, Namibia, Rwanda, South Africa, Tanzania, Uganda, Zimbabwe and Zambia. In addition to creating customized private journeys, AAC offers more than 20 group trips, including gorilla safaris in Uganda and Rwanda, Kilimanjaro climbs and migration safaris. For additional information, visit http://www.adventuresinafrica.com.
Media Contact: Darla Worden, WordenGroup Public Relations, darla(at)wordenpr(dot)com, 303.777.0635