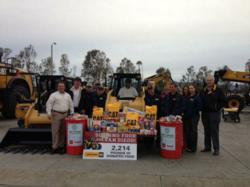 San Diego, CA (PRWEB) November 16, 2012
Hawthorne Cat teamed with the Jacobs & Cushman San Diego Food Bank and San Diego State University Athletics to collect over 2,214 pounds of food for the San Diego community. Hawthorne Cat has kicked off the seasonal holiday food drive by challenging other companies to match their recent donation. The San Diego Food Bank will use the donated items to provide over 1,730 nutritious meals to San Diego families in need.
Hawthorne Cat's Vice-President of Sales and Marketing, David Ness, adds "Hawthorne Cat would like to thank our customers, employees and the greater San Diego community for helping us score a touchdown for the San Diego Food Bank. We are very proud to see everyone pull together to help with such an important need in our local community."
Steve Dunn, Corporate Marketing Director, continues "Even though our food drive is complete, we want to encourage the community to continue to support the food bank. Food items can be donated at any one of the San Diego Food Bank locations."
The official food donation ceremony was held on Thursday, November 15, 2012 at Hawthorne Cat's corporate headquarters in San Diego, CA. The ceremony was featured during the Good Morning San Diego show on the KUSI Channel.
Visit http://sandiegofoodbank.org to learn more about the Jacobs & Cushman San Diego Food Bank.
Visit http://www.facebook.com/hawthornecat for video and images of the presentation ceremony.
Background
Hawthorne Cat is the authorized dealer for Caterpillar construction and power equipment in San Diego, Hawaii, Guam, Saipan and American Samoa. Hawthorne sells, rents, provides parts and service and emission solutions to various industries including heavy construction, general building construction, earthmoving, excavation, landscaping, marine, paving, waste management and power generation. For more on Hawthorne visit http://www.hawthornecat.com.
###