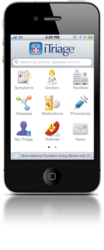 We recognize how important it is for members of the communities we serve to quickly and conveniently access medical care and information
Denver, CO (PRWEB) November 16, 2012
Now more than ever, consumers are turning to mobile devices to access health care information anytime and anywhere. Exempla Physician Network(EPN) is reaching out to the growing number of mobile users through a partnership with iTriage® – a free health care app that lets users research symptoms, medical conditions and find the closest physicians and medical facilities, directly from their smartphones or computers.
"We recognize how important it is for members of the communities we serve to quickly and conveniently access medical care and information," says EPN's Medical Director Stephen W. Cobb, MD, FAAFP. "Using technology that gives individuals the opportunity to acquire information from their mobile devices is another method that lets us connect with patients when they have an immediate medical need."
The iTriage app gives consumers 24/7 access to information about Lutheran Southwest Urgent Care and 48 EPN physicians who provide treatment for primary and internal medicine throughout the Denver metro area. The app also lets users:

Search medical symptoms and conditions.
Learn about possible causes and treatment options.
Obtain medication information.
Access turn-by-turn directions to both urgent cares and physician offices.
iTriage is available as a free download from app stores for iPhone® and Android™ mobile devices, and is accessible from any Internet-enabled device at http://www.iTriageHealth.com.
"iTriage gives health care facilities a way to leverage mobile devices and wireless networks to provide better care for patients and puts actionable health care information into the hands of consumers, including facility mapping, so they can easily obtain treatment," said Peter Hudson, MD and Co-founder of iTriage.
About Exempla Physician Network
As part of Exempla Healthcare, the Exempla Physician Network (EPN) offers highly-experienced, dedicated physicians and clinical staff serving the Denver metro area. Delivering high quality care to neighborhoods throughout the area, EPN physicians and medical providers specialize in family and internal medicine, OB/GYN, and a wide range of medical and surgical specialties including oncology and diabetes care. Lutheran Southwest Urgent Care in Littleton is open seven days a week to care for minor illnesses and injuries. For more information, visit http://www.epndoctors.org
About iTriage, LLC
iTriage LLC, headquartered in Denver, Colorado, is a global health care technology company founded in 2008 by two emergency medicine physicians. The company's market-leading platform and mobile/Web applications offer a proprietary Symptom-to-Provider™ pathway that empowers consumers to make better health care decisions. iTriage helps people answer the two most common medical questions: "What could be wrong?" and "Where can I go for treatment?" Millions of consumers around the globe have downloaded the free iTriage mobile app on their iPhone and Android devices, and thousands of health care providers use iTriage to reach and communicate critical facility and service information to patients. For more information, please visit http://about.iTriageHealth.com.