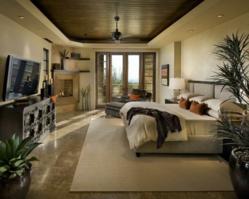 "This is a real stamp of approval for Ownby Design from the Houzz community and we're thrilled to welcome them to this elite group of 'Best Of' winners."
Scottsdale, AZ (PRWEB) November 19, 2012
Ownby Design of Scottsdale, AZ has been awarded "Best of Remodeling" 2012 by Houzz, the social platform dedicated to residential remodeling and design. The Scottsdale interior design studio was chosen by the more than 1.2 million registered members and followers of the Houzz community.
The Houzz award for 2012 is given in two different categories: Customer Satisfaction and Design. Customer Satisfaction award winners are based on homeowner members who have rated and reviewed their experience working with remodeling professionals in 12 categories ranging from architects and interior designers to contractors and other residential experts. Design award winners' work was the most popular among the 1.2 million members, who saved more than 16.5 million professional images to their personal ideabooks via the Houzz site and other mobile devices.
Luxury Residential Interiors
According to Liza Hausman, vice president of marketing for Houzz, "This is a real stamp of approval for Ownby Design from the Houzz community and we're thrilled to welcome them to this elite group of 'Best Of' winners."
The Houzz design forum has quickly become one of the largest platforms for active remodelers, ensuring homeowners and avid design enthusiasts with first-hand knowledge from other members that have already been through the renovating and design process.
Homeowners can identify not only the top-rated professionals like Ownby Design, but also those whose work visually aligns with their own design objectives. They can also evaluate professionals by contacting them directly on the Houzz platform, asking questions about their work and evaluating their responses to questions from others in the Houzz community.
About Ownby Design
Ownby Design is a luxury interior design firm that specializes in interior design, architectural detailing, and kitchen & bath design for both new builds and remodels. Claire Ownby is one of the most sought-after designers of luxury residential interiors and the founder of Ownby Design, LLC. With her unique fusion of minimalism and lavishness, Claire's designs transform the spaces of everyday living into one-of-a-kind indulgences. Claire and the Ownby Design team have been recognized with numerous industry and community awards throughout the past several years for residential designs in both Arizona and the Hawaiian Islands. Ownby Design currently has design studios in Scottsdale, Arizona and in Waikoloa, Hawaii.