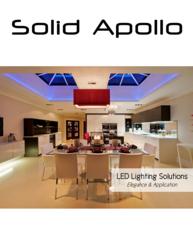 We're very excited to announce our 25% Sale Cyber Monday Super Sale. Now all of our clients will get even more savings as well as making it easier and more affordable to upgrade any lighting around the home or business
Lynnwood, WA (PRWEB) November 15, 2012
Now is the perfect time to upgrade the lighting in one's home at a great price. Have you ever wanted to have state of the art under cabinet LED lights? LED Strip Light kits are a great option for this simple upgrade. Solid Apollo's LED Strip Lighting kits include a 16 foot LED Strip, a LED driver, as well as a high end ON/OFF touch dimmer switch. Solid Apollo's LED Strip Lighting kits are usually sold at $99 but with this Super Cyber Monday savings it will be available to all customers for an unbeatable price of $74.25.
"We're very excited to announce our 25% Sale Cyber Monday Super Sale. Now all of our clients will get even more savings as well as making it easier and more affordable to upgrade any lighting around the home or business. We have also hired 3 more customer support representatives in order to be able to provide support and advise for our customers during those 4 days." states Solid Apollo's President Manuel Barquin. In addition to the 25% discount sale, Solid Apollo is also offering free shipping on orders of $150.00 or more.
Solid Apollo has also launched in November a new LED Control System specifically designed for Smartphones and tablets. (LEDWizard Smartphone & Tablet LED Controller) According to Solid Apollo, this is a revolutionary product that enables any user to have full control of any LED Lighting installation through any Smartphone or tablet with Android or iOS operating systems. The LEDwizard Smartphone LED controller has great features, like 8 independent zone control, rainbow color picker, auto program function, speed and brightness adjustments etc.
Solid Apollo's 25% off Cyber Monday Super Sale is a great way for customers to stock up on LED Light Systems before the Christmas shopping rush begins. For even further savings, when you purchase $150.00 dollars or more you'll receive free shipping. In order to get this instant 25% off, just use promo code "Gratitude" at the check-out and you will instantly receive 25% off from your purchase.
Solid Apollo is also well known for their cutting edge energy-efficient LED Lighting systems which include their LED Light Strips, LED Strip Lighting Kits, and their LED Control systems, like their 10 Zone LED wizard Controller just to mention a few. Solid Apollo's friendly and knowledgeable customer service personnel are standing by to assist customers over the phone, online chat or email.
"We've made sure all our products are well stocked in preparation for the high demand we anticipate during this sale." Barquin says.
About Solid Apollo.com: Solid Apollo is a cutting edge lighting company which designs produces and distributes a wide range of High Quality LED lighting products and lighting solutions to meet today's ongoing new generation energy-efficient lighting demands. For more information visit Solid Apollo at http://www.solidapollo.com.