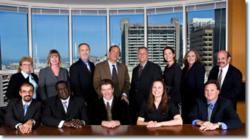 These men have not been convicted of anything, yet their reputation is already destroyed by the story.
San Francisco, CA (PRWEB) November 16, 2012
The Silicon Valley Internet Crimes Against Children Task Force arrested four men in the Bay Area on charges of possession of child pornography this past Tuesday, November 13. Task force members targeted these men through peer-to-peer sharing over the Internet, which has become an increasingly popular way to identify persons sharing pornographic images of children via the web. The task force that raided these men's residences was made up of no less than 23 different agencies – further proof that state and local law enforcement officials are cracking down on this practice with a vengeance.
This series of raids was conducted in what is becoming the most common way of targeting individuals participating in child pornography. An agent will lure an unsuspecting individual into a conversation (one that they may not normally have had) about children as sexual objects – usually this occurs in a chat room. Then the agent will contact the individual's internet provider and obtain a physical address for the purposes of serving a warrant, which is usually carried out in the wee hours of the morning for the purposes of creating a more dramatic ambush.
This is part of a growing trend in which law enforcement agencies and task forces are cracking down on peer-to-peer file sharing. An individual who has used such a method to view child pornography may find himself or herself charged with possession and distribution of child pornography because, technically, these images were distributed through the peer-to-peer network.
Although peer-to-peer file sharing was once the safest way to distribute illegal materials, this is no longer the case. Tuesday's raid in San Francisco's Visitacion Valley, South of Market, Ocean View, and Excelsior neighborhoods proves otherwise. The over 100 officers involved used the same tactics described above to enter the homes of the alleged suspects. Upon entering these residences, officers allegedly found images of child pornography and arrested the suspects. At least two more warrants were issued, but there was not enough evidence in those cases to arrest the parties involved; investigation continues on these matters.
The Summit Defense law firm, a criminal defense law firm based in San Jose and San Francisco is actively lobbying local news agencies to exercise restraint when publishing the names of the alleged suspects.
San Francisco sex crime defense attorney, Steve Davidson explains, "I have had several clients arrested for having child pornography on their computers who were later exonerated. In some cases, others had used the computer. Also, investigation sometimes reveals that images were downloaded inadvertently along with legal content."
Mr. Davidson says he understands why this is news, but nevertheless wants to remind the media that the stigma attached to sex crime-related accusations can be ruinous. Says Mr. Davidson, "These men have not been convicted of anything, yet their reputation is already destroyed by the story. Some will lose their jobs when a co-worker sees the story or booking picture. Their families will suffer financially and the humiliation may be more than some can bear. Any lawyer that defends sex allegation cases will tell you that suicide is a concern."
About Summit Defense Attorneys
Summit Defense Attorneys is one of the San Francisco Bay Area's largest and most experienced groups of Bay Area Criminal Defense Attorneys that only represents individuals charged with or accused of a crime. With over 15 years of experience, the Summit Defense legal team includes two former prosecutors, a former Police Officer and attorneys who graduated from the country's top law schools including Harvard.
Summit Defense also has an in-house Immigration Attorney who works with non-citizen Summit Defense clients.
Every day Summit Defense Attorneys are in Bay Area and Sacramento area courtrooms fighting for clients' freedom, insisting on the presumption of innocence, and taking police and prosecutors to task when they violate their clients' rights.
Summit Defense Attorneys offers a free initial consultation and their staff is available 24/7 to answer legal questions. Summit Defense is proud to be an A+ rated member of the Better Business Bureau and a member of the National Association of Criminal Defense Lawyers. Their accomplishments in the courtroom are well known in the legal community and include a recent a double murder trial win and the dismissal of a molestation charge.
To speak with one of their attorneys, please call (408) 333-9622.
Summit Defense Attorneys
2570 N. 1st Street
2nd Floor
San Jose, CA 95131