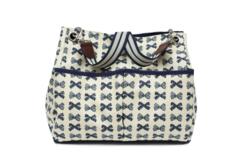 As a mother and business owner, I know what a busy family on the go needs. But at heart I am a designer first and I seek beauty in every day objects.
AUSTIN, Texas (PRWEB) November 19, 2012
Award-winning popular British brand, Pink Lining, launches their brand of distinctive, family lifestyle necessities including diaper bags, kids rucksacks, accessories, and now an adult collection of weekend travel essentials. The US market for 'mom bags' has typically meant oversize totes and purses doing double duty as diaper bags, or they have featured over-the-top, mass generated prints that scream 'harried mom', especially with their lack of design detail and generic quality. Enter Pink Lining with their campaign to provide mothers with beautiful yet practical bags designed to celebrate this special time in a new family's life when they have young ones. With the introduction of their full spring 2013 collection, Pink Lining has officially launched here in the US at select specialty retailers and online at pinklining.com.
In London, stylish mums have been wearing their distinctive, original designs by Pink Lining for years. These proud mums have been toting their every day family essentials in their highly functional-on-the-inside but, super-stylish, original, designer Pink Lining prints, on the outside. These moms are not settling for an every day, "nope-I'm-not-carrying diapers or wipes" handbag or tote. Now, moms in the US can channel their own Yummy Mummy too.
"I design and construct our pieces for maximum functionality. As a mother and business owner, I know what a busy family on the go needs. But at heart I am a designer first and I seek beauty in every day objects," said Charlotte Pearl, designer and co-founder of Pink Lining based in London's iconic Notting Hill. "Our mothers want to celebrate this special time in their lives with little ones. They don't want to hide their celebration of motherhood in a boring bag. They want to flaunt it with style and a playful attitude that says, 'I'm a mother that demands style but I don't take myself too seriously either'!"
Imagination and old-fashioned fun are at the heart of Pink Lining's custom fabric designs. That is why stories such as Peter Pan and the Elfin Oak in Kensington Gardens have inspired past children's collections. Nostalgia is another point of reference: motherhood as a time of reconnecting with childhood memories. For example, the cupcake applique detail on the perennially popular Yummy Mummy bags references the simple childhood pleasure of enjoying a special treat.
Pink Lining began on a simple dare from Charlotte's husband, Rufus Pearl. About to attend a fancy party, Charlotte could not find a suitable bag. Rufus challenged her to make her own bag. Her design instincts and fashion savvy had been honed during her days as a contributor for luxury publisher Conde Nast. She also learned the premium retail market from her days as a PR professional at top retail agency in London, Yellowdoor. Charlotte hand-stitched her first purse. As the story goes, friends loved it and asked Charlotte to make purses for them too. Her designs soon caught the attention of Harrods handbag buyer, and a company was born.
Pink Lining was quickly sold out, and re-ordered, and shortly thereafter featured in British Vogue and Tatler magazines as the newest must-have. London fashion week shows soon followed. Today, as a mother of three, her collections have evolved to meet her own personal and family needs. While pregnant with her first child, she saw the gap in the market for fashionable, yet functional mother's bags. This led to her first collection of diaper bags - originally beginning with her signature "Yummy Mummy" bags, and has now grown to include bags for twins and "Mum on the Run" bags. There is no ostentatious label on the outside of their bags; in fact Pink Lining's signature is the shocking pink interior lining; underlying the notion that it is what's on the inside that truly counts.
After over ten years of designing chic, functional bags to the UK, throughout Europe and Asia markets, Pink Lining is now bringing Charlotte's inspirational and whimsical designs to the US. Charlotte creates two full collections a year, spring/summer and fall/winter, all based on her original custom fabric designs.
To see the full collections, meet the designer, or simply indulge in your own inner Yummy Mummy, visit pinklining.com.
About Us
Pink Lining is one of the few truly designer labels in a saturated market for baby and kid's bags and accessories. Founded in London in 2001 by husband and wife team Charlotte and Rufus Pearl. Within a matter of months after Charlotte stitched the first bag, Pink Lining products were being stocked in Harrods, as well featured in UK Vogue. The brand originally began as a designer handbag line, but has since evolved into an entire family lifestyle brand. The name "pink lining" was inspired by the idea that "it is what is on the inside that truly counts," and to this day every bag features the brand's signature shocking pink interior lining. As the creative force behind the label and mother to three young children herself, Charlotte aims to put the smile and design into practicality by making the usually mundane covetable. Pink Lining products are currently available in select stores in the UK, US, and Australia, as well as online at http://www.pinklining.com.