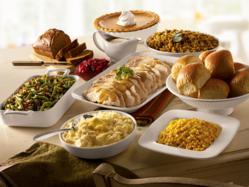 HEALDSBURG, Calif. (PRWEB) November 16, 2012
Food + Family = Holidays. It's a simple formula that defines the season for many of us, whether "family" means relatives or just the people you love. This holiday season, the Winegrowers of Dry Creek Valley have compiled a series of festive recipes with suggested wine pairings to pass along their holiday traditions to others. As rich in history as the wines, these recipes reflect contributions by different family members, traditions passed down from one generation to the next, or family favorites so beloved, they make an appearance on the holiday table year after year. Some of the recipes and stories featured:
Ridge Vineyards Winemaker Paul Draper shares the impact his first visit to Dry Creek Valley (Thanksgiving 1954) had on him as a young, college student, along with his recipe for Slow Roasted Leg of Lamb With Mint Gremolata and White Bean Ragout paired with a Ridge Lytton Springs Syrah.
Dry Creek Vineyard owner Kim Stare reveals the many years of trial and error it took to create the perfect Chestnut Soup With Crisp Prosciutto paired with 2009 Dry Creek Vineyard Old Vine Zinfandel, Dry Creek Valley.
Jason Passalacqua spent autumn afternoons making Butternut Squash Ravioli With Sage Butter with his grandmother. This classic Italian dish is paired with Passalacqua Winery 2010 Dry Creek Valley Barrel Fermented Chardonnay.
Pedroncelli Winery owner Christine Pedroncelli shares a family recipe for Salmon Mousse that is as elegant as it is easy. Paired with Pedroncelli 2011 Dry Creek Valley Chardonnay, it's been one of the most requested dishes for Pedroncelli family gatherings.
These recipes and more, along with images and the stories behind them, can be found at http://www.wdcv.com/wineries/holiday-recipes-and-pairings.php
About Winegrowers of Dry Creek Valley:
The Winegrowers of Dry Creek Valley® (WDCV) is an association of more than 60 wineries and 150 growers, of which most are family-owned and multi-generational, located in Healdsburg, Sonoma County, California. WDCV is dedicated to advancing the recognition, enhancement and preservation of Dry Creek Valley as a premium winegrowing region. Dry Creek Valley is known for its signature varietal Zinfandel and the pristine and unspoiled beauty of the valley. http://www.wdcv.com
# # #
Media Contact:
Michelle McCue / McCue Marketing Communications
(213) 985-1011 / michelle(at)mccuecommunications(dot)com