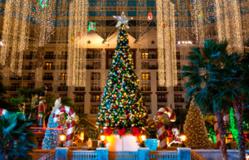 NASHVILLE, Tenn. (PRWEB) November 19, 2012
Lights On. Trees Up. ICE! Carved. The famous Gaylord Hotels Christmas has officially begun at all four resorts, located in National Harbor, Md. (just outside of the nation's capital); Nashville, Tenn.; Kissimmee, Fla. (near Orlando); and Grapevine, Texas (on the outskirts of Dallas).
Gaylord Hotels Has Christmas All Wrapped Up
Gaylord Hotels resorts are recognized as the place to create meaningful holiday memories, and all four are proud to present unique holiday decor and entertainment. The signature atriums are now decorated for Christmas with millions of lights, thousands of poinsettias, and breathtaking decorations. Add in holiday entertainment, visits from Santa, and illuminated fountain shows, Gaylord Hotels has taken care of Christmas magic.
Come and See the Christmas Trees
Oh, Christmas Trees! Gaylord Hotels is proud to feature unique Christmas trees in each of its four resorts. Gaylord National features a 60-foot glass "Tree of Light" that is made even more magical with nightly indoor snowfall. From Gaylord Opryland's outdoor 141-foot lighted tree to the Hall of Trees that raises money for charity, guests will be inspired by the trees at this resort. The nightly tree lighting ceremony at Gaylord Palms is complete with singers, carols, lights, and the massive 54-foot Majestic Christmas Tree. Gaylord Texan may have miniature train sets and a life-sized gingerbread house, but the star of the winter wonderland is the 54-foot rotating Christmas tree.
Baby It's Cold Inside – Gaylord Hotels presents ICE!
Celebrations at Gaylord Hotels this year will include the return of ICE! attractions featuring DreamWorks Animation SKG, Inc.'s Merry Madagascar and Shrek the Halls. Each display is hand-carved by 40 artisans from Harbin, China – the ice-sculpting capital of the world. The fanciful ICE! sculptures and ice slides are crafted from 2 million pounds of ice at each resort.
Christmas with Character
In 2012, Gaylord Hotels will once again offer holiday experiences with favorite characters from such DreamWorks Animation films as Shrek, Kung Fu Panda, Madagascar, How to Train Your Dragon and DreamWorks' latest film - Rise of the Guardians. Eat breakfast with Shrek. Make gingerbread houses with Gingy. Join forces with Jack Frost and the legendary Guardians. Each resort offers a variety of entertaining holiday experiences for families.
Christmas is open at Gaylord Hotels! Book now.
Packages are available now at each destination, and Gaylord Hotels encourages travelers to book their experience early.
Following are links to the detailed Christmas event overviews:
http://www.ChristmasAtGaylordNational.com
http://www.ChristmasAtGaylordOpryland.com
http://www.ChristmasAtGaylordPalms.com
http://www.ChristmasAtGaylordTexan.com
Christmas by the Numbers 2012: A Gaylord Hotels Infographic
About Gaylord Hotels®
Gaylord Hotels® is a collection of four upscale, resorts which afford endless opportunities for leisure travelers and conventioneers. The hotel company's hallmark – "everything in one place" – provides vacationers with diverse dining options, quality spa and fitness center services, top-notch entertainment, on-site shopping and endless activities – all within each resort. Gaylord Hotels is a pioneer in the hotel and convention industry with properties in the nation's most desirable destinations. Gaylord Hotels include Gaylord Opryland® in Nashville, Tennessee; Gaylord Palms® in Kissimmee, Florida near Orlando; and Gaylord Texan® on Lake Grapevine near Dallas, Texas, and Gaylord National® on the Potomac in National Harbor, Maryland. For more information, please visit:http://www.GaylordHotels.com.
Shrek, Madagascar, Kung Fu Panda, How to Train Your Dragon, Rise of the Guardians and all related characters and properties © 2012 DreamWorks Animation L.L.C. Shrek the Halls © 2012 DreamWorks Animation L.L.C. Merry Madagascar ©2012 DreamWorks Animation L.L.C.