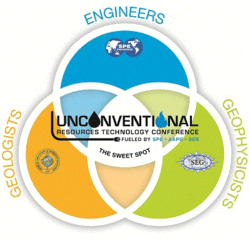 Tulsa, OK (PRWEB) November 17, 2012
The Call for Papers deadline for the Unconventional Resources Technology Conference (URTeC) has been extended through 12 December 2012. Organizers seek papers from petroleum engineers, geologists, geophysicists and other professionals interested in sharing innovations, best practices and experiences in integrated approaches for North American unconventional resource plays. Papers will be accepted online, http://www.urtec.org/conference/call-for-papers through the deadline.
Several hundred papers have been received to date and activity continues to increase after recent URTeC promotions at the SEG Annual Meeting in Las Vegas and the SPE Annual Technical Conference and Exhibition in San Antonio. Nearly 70 companies have signed on to exhibit at URTeC, including industry leaders such as Saudi Aramco, Halliburton, TGS, I H S, Schlumberger, ION Geophysical and more.
URTeC, 12-14 August 2013 at the Colorado Convention Center in Denver, will for the first time bring together the key disciplines and technologies engaged in the development of North American resource plays. The program includes 20 themes applicable to unconventional resources and appeals to engineers, geologists and geophysicists, including:

Unconventional Project Development
Unconventional Shale Plays
Flow Mechanics in Tight Reservoirs
Laboratory Methodologies
Reservoir Monitoring
Drilling Optimization
A complete list of topics and the Call for Papers is available online at http://www.URTeC.org.
Authors whose papers are accepted will present at a conference supported by three of the world's largest scientific associations — SPE (Society of Petroleum Engineers), AAPG (American Association of Petroleum Geologists) and SEG (Society of Exploration Geophysicists).
For more information and/or to request information on exhibiting and sponsoring visit the URTeC website at http://www.urtec.org.
About the societies
American Association of Petroleum Geologists
AAPG has been a leading organization for the science of geology worldwide. AAPG fosters scientific research and promotes technology in the field of geology. The Association serves members in more than 120 countries with publications, meetings, professional development and networking opportunities.
Society of Exploration Geophysicists
SEG promotes the science of exploration geophysics and related fields, including applications and research, fosters the common scientific interests of geophysicists, and maintains a high professional standing among its members. The Society, which has members in 138 countries, fulfills its mission through its publications, conferences, forums, website, and educational opportunities.
Society of Petroleum Engineers
SPE serves more than 104,000 members in 123 countries. SPE is a key resource for technical knowledge related to the oil and gas exploration and production industry and provides services through its publications, conferences, workshops and forums.