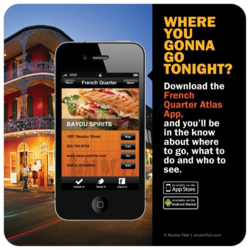 "The best insiders information for everything in the French Quarter. I tell all my visitors to download it, and they thank me."
Frank, Hotel Manager.
New Orlenas, LA (PRWEB) November 27, 2012
French Quarter Atlas is an app developed by Nectar Fish developers Jeremy Boykin and Trevor Wilson. The French Quarter Atlas app combines technology and the French Quarter. The app serves as an insiders tool for finding everything in the French Quarter including restaurants, nightlife, music, art, events, tours, shopping, attractions, and everything in between. With this app, the user has a personal tour guide and concierge at their fingertips. In addition to all the categories available with the app, a new feature is "near me now" which enables users to see attractions, events, restaurants etc., that are near their current location. Once the users choose a destination, they will be directed to the location's details page with helpful information including a phone number, webstie, business hours, a map with walking directions, and more personal touches.
The French Quarter Atlas gives users the ability to add favorite places, check into locations, and share information via social media and e-mail. Be your own tour guide with the app.
The app is now available for $.99 at the Apple iTunes store and the Google Play Store for Andriod. Search for the app in each store by searching for French Quarter Atlas.