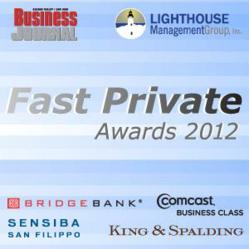 Santa Clara, CA (PRWEB) November 16, 2012
ECS Refining, one of the nation's largest electronics recycling companies, announced it has made the Silicon Valley / San Jose Business Journal's list of 75 Fastest Growing Private Companies for the second year in a row. The widely coveted list ranks companies by percentage change in net revenue from 2009-2011. This announcement comes on the heels of the company's designation as one of Silicon Valley's Largest Private Companies, an honor ECS Refining has earned for three consecutive years.
According to Jim Taggart, Chief Executive Officer for ECS Refining, "The company's inclusion in this year's ranks of fast-growing private companies comes as no surprise. ECS Refining has enjoyed continued growth over the past several years as it expands its service offerings to include IT asset management and disposition, asset remarketing, and industrial equipment resale solutions. The company's recently-opened state-of-the-art recycling facility in Stockton, CA and its highly anticipated counterpart in Mesquite, TX have positioned the company to continue blazing a trail of innovation and environmental stewardship. ECS Refining is working to extend its responsible, domestic solutions across the U.S."
This year, the Business Journal required nominees to be audited by a 3rd party accounting firm and provide official financial documents to verify earnings, lending even more credibility to one of the publication's best read lists.
About ECS:
ECS Refining is a full-service electronics recycling and asset management company, headquartered in the heart of the Silicon Valley. ECS is vertically integrated and offers a broad spectrum of recycling and asset management solutions, ranging from e-waste shredding to IT and industrial asset resale. The company utilizes state-of-the-art technology and over 30 years of experience to provide the most comprehensive, responsible solutions in the industry. As a member of e-Stewards, ECS strives to maximize value recovery and ensure data security while safeguarding the future of our planet. No landfills. No exportation. No exceptions. Visit http://www.ecsrefining.com to learn more.