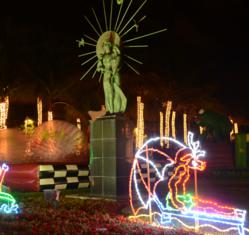 Sunny Isles Beach, Florida (PRWEB) November 27, 2012
The City of Sunny Isles Beach will hold the annual celebration of winter at Samson Oceanfront Park (17425 Collins Avenue) from 5:00 - 8:00 pm on Saturday, December 1, 2012. A park lighting ceremony is planned, along with winter fun for residents and visitors.
The City of Sunny Isles Beach invites residents to come out and kick off the holiday season in style as the Mayor flips the switch to light up the park. Enjoy an evening of FREE rides and crafts for the kids, winter playtime activities, and a photo opportunity with a special visitor in a red suit! Join friends and neighbors, young and old alike, at Samson Oceanfront Park for an illuminating experience.
Parking for this event will be available along 174 Street. A special event bus will run during the event to provide patrons with convenient transportation to Samson Oceanfront Park. For information on this FREE event, please contact the Cultural & Community Services Department at 305.792.1706.