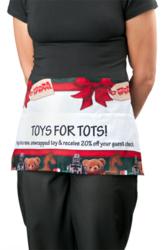 Transform the traditional apron into a walking billboard
Nampa, ID (PRWEB) November 16, 2012
Restaurant industry apparel leader KNG today unveiled a new custom Promo Apron line featuring vivid full color graphics. KNG Promo Aprons transform the traditional apron into a walking billboard by giving foodservice operators the ability to have full color custom graphics imprinted onto aprons worn by their staffs. Aprons may be re-sold or given away as promotional items, too. The new restaurant aprons, available in bib and waist styles, come in a variety of imprint areas. Pricing starts at just over $5 with minimum quantities of only 12 Promo Aprons.
"For years restaurant operators have used printed pieces such as table toppers, menu inserts and wall posters to promote specials to their customers, but this is the first time they can utilize employee apparel to really bring these campaigns to life," said Peter Buzzard, KNG vice president of sales and marketing. "Restaurant staff members are instrumental in shaping the dining experience. KNG's custom Promo Aprons ensure customers see campaign messages several times during a visit."
KNG Promo Aprons are custom created using the client's artwork. The Promo Apron line offers a variety of imprint sizes, all in full, bright color. Each Promo Apron is made from high quality, durable spun-poly fabric specially designed for the rigors of foodservice. The high print quality allows the restaurant aprons to feature complex graphics, such as detailed artwork and photos. The graphics are imprinted onto the fabric through a technology called dye sublimation. This technique is superior to screen-printing, as the image is transferred by gas and is embedded within the garment fibers instead of printed on top of the garment. This ensures the aprons retain their original softness while withstanding stains and heavy laundering without fading.
"The KNG Promo Apron line is the perfect holiday complement for restaurant marketing campaigns," said Buzzard. "For example, we have already created a special Toys for Tots holiday Promo Apron for one of our national foodservice distribution partners. The campaign is designed to help their operators drive holiday traffic by having servers wear the aprons, which use the same graphic design as other promotional pieces throughout the restaurant, to encourage patrons to return in December to contribute to the Toys for Tots campaign."
In addition to employee apparel, the Promo Aprons can be used as giveaway or re-sale items.
"People feel a very strong connection to their food, which leads them to tell friends about their favorite foods and dining experiences," said Buzzard. "Sending a KNG Promo Apron home with a customer can help restaurateurs increase brand recognition and build loyalty."
KNG is the world's preeminent menu cover manufacturer and a leading provider of chef wear, server uniforms, and restaurant supplies. Founded in 1965, the company has more than 100,000 hospitality clients worldwide, including such leading operators as Pizza Hut, T.G.I. Friday's, Perkins, McCormick & Schmick's, Chili's Grill & Bar and Guest Services. KNG products are backed by a full 90-day money-back guarantee and a 150-percent low-price guarantee. For more information, visit http://www.kng.com.