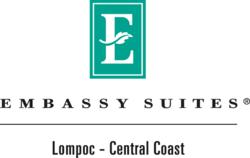 Lompoc, CA (PRWEB) November 21, 2012
Showcasing its commitment to the Lompoc community, the Embassy Suites Lompoc – Central Coast Hotel announced today that for the fourth year it is an official collection site for this holiday season's Toys for Tots drive to collect toys to distribute to children in need. Last year the hotel collected more than 100 toys for the local chapter.
The Embassy Suites Lompoc – Central Coast is participating along with 20 other hotels owned or operated by Windsor Capital Group (WCG) and its hotel management company Windsor Management Services.
"The number of children living below the poverty level is now over 16 million; a figure I've never known to be higher," said retired Marine Major Bill Grein, the vice president of the Marine Toys for Tots Foundation. "In order for us to fulfill the Christmas holiday dreams of as many of these children as possible, we're going to need a lot of individual and corporate support," Grein continued. "Fortunately, we have WCG Hotels back for the fourth year to help us reach these kids."
"Four years ago, our leadership team challenged each of the 21 hotels to submit a charity that we could all support and work with in our local communities," explained Lacey King, Accounting/Payroll for the Embassy Suites Lompoc – Central Coast Hotel. It's great to work for a company like WCG Hotels that values the communities it serves."
"Come bring an unwrapped toy to make the holidays bright for a local child," encouraged King.
This year, WCG Hotels added an exciting social media contes t to encourage fans to give. Like WCG Hotels on Facebook or follow @WCGHotels on Twitter and share what inspires you to give and you could win a free two-night stay at any WCG Hotel plus a $40 food credit. Entries can be in the form of a story or photo and the winner will be chosen by other fans & followers. Contest entries will be accepted until December 12th, 2012.
The objectives of Toys for Tots are to help needy children throughout the United States experience the joy of Christmas; to play an active role in the development of one of our nation's most valuable natural resources - our children; to unite all members of local communities in a common cause for three months each year during the annual toy collection and distribution campaign; and to contribute better to communities in the future. Visit http://www.toysfortots.org for more information and additional ways to support this great cause.
The Embassy Suites Lompoc – Central Coast Hotel will be collecting toys until Dec. 17th. They encourage everyone who is able to come in and donate an unwrapped, new toy. On Saturday, December 8th from 11am to 2pm, Santa will be on property to have his picture taken with individuals who drop off a toy for toys for tots.The hotel is located at 1117 North H Street Lompoc, CA 93436.
For more information, including a list of all 21 WCG Hotels participating in the annual drive, visit http://www.WCGHotels.com/toysfortots
ABOUT WINDSOR CAPITAL GROUP
Windsor Capital Group is a hotel management and development company that owns and operates full-service, focused, upscale branded hotels throughout the United States, with most flying the Embassy Suites and Marriott flags. It also runs Windsor Management Services, a top-performing hotel management company that customizes hotel management services to meet the needs of the properties.
Windsor Management Services is an award winning, comprehensive hospitality management organization that operates full-service, upscale hotel properties throughout the United States. With more than 30 years of experience to call on, Windsor Management Services is known for unmatched results for its owners and unparalleled service for its guests delivered with a personal connection.
For more information visit http://www.WindsorManagementServices.com or http://www.WCGHotels.com. Additionally, please contact Paul Francisco, Chief Operating Officer at 310-566-1100.