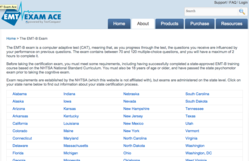 Boston, MA (PRWEB) November 17, 2012
EMT Exam Ace has a mission to make become an Emergency Medical Technician as easy as possible. To that end, they have released an free online resource that provides easy access to state resources, requirements, training facilities, and applications.
Emergency Medical Technicians are certified under a national standard curriculum, and nearly all states accept the NREMT national EMT exam. However, certification is a state-level process, and while requirements are very similar across the nation, each state has its own application and procedures.
To sort through all of the confusion and sometimes meandering websites, EMT Exam Ace, has complied the essential resources for each state into an easy-to-navigate webpage with links to the state's EMS department, the EMT initial certification application, state training resources, and contact information for the department.
"We want to make it as simple as possible for people to become EMTs," says Samantha Tanzer, Manager of Product Development at EMT Exam Ace, "Besides offering high quality exam prep material with thousands of practice questions, we want to make sure everyone knows the process and requirements, and this centralized resource allows just that.
EMT Exam Ace plans to continue to expand its free knowledge center, with articles on EMT career progression and exam study tips, as well as expanding the state-specific requirements. "EMT certification information on the web is unfortunately disorganized," notes EMT Exam Ace founder, Ted Chan, "We want to make it easy to find and convenient to use."
About EMT Exam Ace and TestConquest
EMT Exam Ace provides comprehensive online review courses at the EMT Basic, Intermediate, and Paramedic levels. Boston-based TestConquest, its parent company, is an educational enterprise providing professional certification preparation solutions.
EMT Exam Ace offers comprehensive exam preparation for the NREMT EMT-Basic, EMT-Intermediate, and EMT-Paramedic NREMT cognitive exams. All of their products come with a 100% pass guarantee. Visit http://www.emtexamace.com to learn more about how you can ace EMT certification.