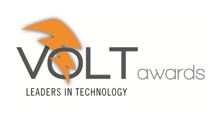 Collectively, they channel unique innovation, success-driven implementation, an extraordinary competitive advantage and efficient operations
Lanham, MD (PRWEB) November 17, 2012
Washington SmartCEO magazine announced today the 2012 SmartCEO VOLT: Leaders in Technology Award honorees. The VOLT Awards celebrated the distinguished achievements of twenty-seven of Greater Washington's leaders in technology. Collectively, the companies represented in program generate $5 billion in revenue and employ over 17,000 people. The 2012 VOLT finalists are profiled in the May 2012 issue of Washington SmartCEO.
The VOLT Awards recognize the accomplishments of Greater Washington's pioneering Technology Innovators and Technology Implementers and Cyber Warriors. The finalists are recognized for their company's creative vision, leadership philosophies, innovative strategizing and undeniable work ethic.
Winners were revealed at the Washington SmartCEO VOLT awards ceremony on May 15, 2012, at the National Press Club in Washington, DC. More than 300 local C-level executives and guests attended to celebrate both the finalists and winners achievements. NET ESOLUTIONS, Innovator small, is amongst the winners.
This year's VOLT finalists have greatly contributed to the growth of the regional economy as well as global. Collectively, they channel unique innovation, success-driven implementation, an extraordinary competitive advantage and efficient operations," says Jaime Nespor, Group Publisher of SmartCEO magazine. "We are privileged to share in their success."
For a complete list of winners, visit http://www.smartceo.com to check out the digital edition of the May 2012 issue. Nominations for the Volt awards closed in early February. Contact Georgia Thomas to find out more about next year's nomination process.
NETE is a full service Information Technology (IT) Management Consulting, Enterprise Architecture Planning, Technology Solutions and Web Design provider offering an integrated suite of IT focused services to government agencies and commercial companies. NETE is a minority, woman-owned mid-sized business that was founded in 1999. Our management team is led by a core group of former Big-5 management consultants dedicated to providing value focused consulting to the federal government and the health sector in the areas of Information Resource Management, Enterprise Architecture, Web Design and Development, and Electronic Government (e-gov) Systems Integration. Our vision is to be a respected business advisor and interactive systems integrator. Our mission is to achieve our vision with integrity. Our promise is to deliver high quality professional services at a competitive price.