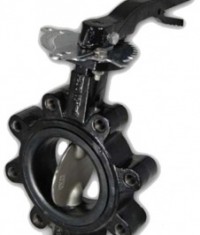 Philadelphia, PA (PRWEB) November 16, 2012
Until now, leading valve supplier, ValveMan, has focused their online offerings on ball valves, and have helped their customers solve valve problems using valves that may not even appear on the site. They are now in the process of expanding their inventory to include wafer and lug style butterfly valves.
Because there is less metal, butterfly valves are very cost effective when compared to ball valves, especially in the larger sizes, due to less expense for raw materials, shipping and installation.
The butterfly valves stocked by ValveMan are made by Delta T, and the pneumatic actuators are by MaxAir. All of the valves and actuators on the site are in stock and ready for delivery. The butterfly valves are available as an automated package or with just a lever handle, whichever is best suited to your requirements.
Currently Valveman is offering wafer and lug style cast iron butterfly valves from 2" to 24" with MaxAir pneumatic actuation or with lever handles. They are anticipating the addition of other types of butterfly valves, including stainless steel and electrically actuated butterfly valves on the site in the near future.
ValveMan is passionate about valves. With extensive application knowledge and deep understanding of valve operation and mechanics, there isn't a valve problem ValveMan can't solve. They've been solving complex and common valve issues since 1965.
About Valveman
ValveMan.com is a leading valve and instrumentation supply company. In business since 1965, ValveMan sources a wide range of manual, electric and pneumatic valves. With state-of-the-art valves from leading manufacturers, ValveMan can resolve leaking packing glands to leaking seats and much more. Serving industries including food processing, pharmaceutical, chemical, power generation and microbreweries, ValveMan is a third-generation family business based on quality, reliability and trust. Visit http://www.ValveMan.com to see its extensive range and to order valves.