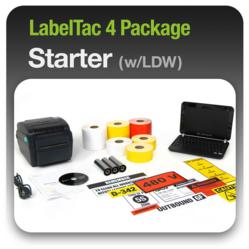 "We could not have been more pleased with the LabelTac 4 Printer and labels we received from Labeltac.com. We were able to produce and mark all our equipment and floors quickly and with ease."
Lake Oswego, OR (PRWEB) November 20, 2012
New business owners can become both excited and stressed when starting up a new facility. To help make a business successful requires organization and safety among the workplace. A perfect solution for making a work environment organized and safe is by making sure all equipment, machinery, floors, walls, racks, etc are labeled properly. Labeltac.com is now offering a complete line of labels that will make any job, whether it is large or small, a complete success by producing labels in-house with industrial printers that generate quality labels quickly and easily. The labels are made of durable, heavy duty material with an aggressive adhesive that's proven to stick to almost any industrial surface.
When new office equipment, file cabinets and products begin arriving in the new work area, the Labeltac 4 printer can quickly print out labels to help identify and organize. Floor labels can be printed to mark off areas designating a specific spot for cubicles or office equipment. Caution or hazard floor labels can mark off stairways and steps that can prevent unnecessary slips and falls providing safety to workers and visitors. Safety programs can be an important tool when starting up a new business as they will educate and provide safety information to workers. The variety of label supplies offered through Labeltac.com are the perfect tool to jump start any safety program such as 5S or lean programs. A new business owner commented, "We could not have been more pleased with the LabelTac 4 Printer and labels we received from Labeltac.com. We were able to produce and mark all our equipment and floors quickly and with ease."
For more information about LabelTac 4 Printer and label supplies, please visit http://www.labeltac.com/labeltac-4/ or call toll-free (866)777-1360 to speak with a professional representative who can answer all your questions.