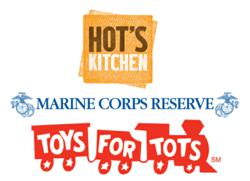 Hermosa Beach, CA (PRWEB) November 15, 2012
Hot's Kitchen is kicking off the holiday season in true American fashion this election year, by hosting our Marines as they inaugurate their annual Toys for Tots campaign.
To show their thanks for everything that our ladies and gents in uniform have done — whether it be in the service or in playing Santa Claus — the little elves at Hot's Kitchen have invited local Marine families to come share a meal on Tuesday, November 20th, from 12-2.
The Hermosa Beach hotspot has long been an advocate of the Marines' Toys for Tots program, which aims to collect and distribute new toys for children in need each Christmas. Families of the Toys for Tots community will also be present, and will have the opportunity to meet these real-life Santas over a delicious lunch of southern California's best new American cuisine.
Throughout the holiday season, diners are welcome to bring a toy donation to Hot's Kitchen, which will be collected by the U.S. Marines Toys for Tots program on December 21, 2012.
About Hot's Kitchen:
Hot's Kitchen was founded in 2011 by childhood friends Sean Chaney and Michael Lindenlaub. After nearly fifteen years in the restaurant business and two successful ventures, the duo saw an opportunity to bring a unique community-focused dining experience with a killer menu to the South Bay. Hot's Kitchen is located just blocks south of the Hermosa Beach pier at 844 Hermosa Avenue, Hermosa Beach, CA 90254 and is open Monday – Sunday, 11am-10pm. For more information visit http://www.hotskitchen.com
About the U.S. Marine Corps Toys For Tots Program:
Toys for Tots Began in 1947, when Major Bill Hendricks, USMCR and a group of Marine Reservists in Los Angeles collected and distributed 5,000 toys to needy children. The idea came form Bill's wife, Diane. In the fall of 1947, Diane crafted a homemade doll and asked Bill to deliver the doll to an organization, which would give it to a needy child at Christmas. When Bill determined that no agency existed, Diane told Bill that he should start one. He did. The 1947 pilot project was so successful that the Marine Corps adopted Toys for Tots in 1948 and expanded it into a nationwide campaign. That year, Marine Corps Reserve units across the nation conducted Toys for Tots campaigns in each community in which a Marine Reserve Center was located. Marines have conducted successful nationwide campaigns at Christmas each year since 1948. The initial objective that remains the hallmark of the program today is to "bring the joy of Christmas to America's needy children".
Media Contact: Kelley Coughlan |Melrose PR | Kelley(at)melrosepr(dot)com | (310) 570- 9970