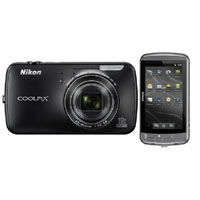 Atlanta, Georgia (PRWEB) November 16, 2012
10rate editors Brian Jones and Steve Holdgren cut through all the choices out there in the holiday presents category to come up with their top choices. According to the Best Christmans Gifts page at 10rate.com, few of the top reccomendations were the Sony Handycam HDR-PJ200, the Nikon Coolpix S800c, and the Kindle Fire HD.
The Handycam " is quite an impressive entry into the camcorder market for 2012. Sony has included just about everything one might want when it comes to features into this tiny package." The Coolpix S800c is a special little camera that "is controlled by the all-familiar Android operating system. This means you get a dedicated camera that can upload and share to social networks, other smartphones, and the internet in general with ease." We've all heard of the Kindle Fire HD and know that it is and upgrade to the first Kindle Fire. 10rate editors noted that it "boasts 40% faster Wi-Fi speeds, which will allow 40% faster downloading and streaming. It has a front facing camera and unlimited cloud storage on Amazon at no cost."
Editors also evaluated and selected the Best Holiday Gifts. Some of the entries on the list were the Mizuno Hyperlite 4.5 Stand Bag, the Maytag MVWX700X top load washer, and the Lifesmart Power Plus 1200 infared heater.
Reviewers noted that the Mizuno golf bag is "good for trips and weighs 5.9lbs. The white with black trim looks very crisp and has lots of advanced features and pockets." They had nothing but praise for the Maytag washer. "The Maytag Bravo X Series MVWX700X has a generous capacity at 3.6 cubic feet. The glass lid always shuts gently thanks to the smooth closing hinge. We were impressed by how fresh and clean clothes came out without having to use a lot of water or detergent."
Lastly, editors chose the Best Golf Wedges with Titleist, Cleveland, and Mizuno all being selected according the the Top 10 list. The Titleist Vokey SM4 46 Degree golf wedge is "is the wedge #1 ranked Rory McIlroy plays currently. It's got the new conforming SM4 spin mill technology and that nice matte oil can finish is great to look at when setting up."
10rate.com conducts reviews in various product and services categories and publishes "Expert Top 10 Lists for Everything in your life." The company's web site strives to "Make it Easy" to select from the hundreds of choices there are in the product and service market place. All products and services are thoroughly researched by the companies expert editors prior to receiving a rating on a 1-10 scale. In addition to product reviews the companies editors write guidelines, buying guides and articles on various topics surrounding each product or service category covered to help educate the consumer.