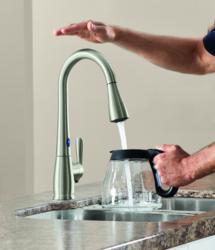 "With MotionSense, washing dishes, filling a glass of water and preparing meals are simplified," said Andrea Conroy, director of retail marketing, Moen.
North Olmsted, Ohio (PRWEB) November 16, 2012
Imagine the convenience of having a kitchen faucet that senses what a user is trying to accomplish and, without even touching the faucet, immediately responds to their needs. The new Moen® Haysfield™ and Delaney™ kitchen faucets with MotionSense™ respond to users' simple hand movements to activate water flow.
"With MotionSense, washing dishes, filling a glass of water and preparing meals are simplified," said Andrea Conroy, director of retail marketing, Moen. "MotionSense provides a convenient, hands-free faucet experience that can save time in the kitchen."
Because users' needs are not always the same, there are three ways to turn on faucets with MotionSense:

The Wave Sensor at the top of the faucet starts and stops the water flow with a simple hand movement above the faucet.
The Ready Sensor near the base of the faucet identifies when an object – like a cup or your hand – is placed beneath the spout. It runs water for as long as that item remains in range and automatically shuts the flow off as soon as the object is removed from the sensing zone.
The handle on the side of the faucet works as you'd expect and lets you adjust temperature and flow of water.
The MotionSense sensors make it easy to accomplish a variety of routine tasks with speed and efficiency. Plus, the hands-free operation helps you control the spread of germs.
Another benefit of MotionSense is the opportunity to save water in the kitchen. The Ready Sensor will only supply water only when an object or hands are within the sensing zone – reducing the possibility of leaving the faucet running when not in use.
MotionSense sensors are powered by a battery pack that utilizes six standard AA batteries or an optional AC power adapter. An LED light provides visual feedback, indicating when the faucet turns on or off; or if the faucet should run low on batteries – typically, after approximately 12 months of use.
"Through our thoughtful design process, we made sure MotionSense is easy for consumers to install and use every day," said Conroy. "And, with several styles to choose from, there is a MotionSense faucet that will complement virtually any kitchen décor."
The Haysfield pulldown kitchen faucet is the first faucet at The Home Depot to offer MotionSense. The soft modern design of the faucet, with crisp detail on the handle was inspired by modern appliances.
The Delaney pulldown kitchen faucet is the first faucet at Lowe's to offer MotionSense. Inspired by clean lines for casual kitchen environments, Delaney offers a versatile look that can adapt to a variety of kitchen styles.
Both Haysfield and Delaney faucets with MotionSense are available in Moen's exclusive Spot Resist™ Stainless ($399*) – a unique finish that actually resists water spots and fingerprints – and feature the Moen Reflex® system, which improves overall hose and sprayer operation for an experience that is truly user friendly. Both kitchen faucets with MotionSense are backed by a five-year warranty for all electronics, plus a Limited Lifetime Warranty** for all finishes and mechanical components.
For more information about Moen kitchen faucets with MotionSense, visit moen.com/motionsense or call 1-800-BUY MOEN (1-800-289-6636).
###
*Prices are approximate and may vary by region.
**For complete warranty information, visit http://www.moen.com.
About Moen
As the #1 faucet brand in North America, Moen offers a diverse selection of thoughtfully designed kitchen and bath faucets, showerheads, accessories, bath safety products and kitchen sinks for residential applications – each delivering the best possible combination of meaningful innovation, useful features, on-trend styling and lasting value. In addition, Moen® Commercial offers superior performing products that deliver lower lifetime costs for today's facilities.
Moen has worked diligently to support, promote and advance sustainability within the organization and the plumbing industry. The company has been recognized with the 2011 EPA WaterSense® Excellence Award, as well as the 2010 EPA WaterSense Manufacturer Partner of the Year Award, for its work to protect the future of our nation's water supply through the introduction and ongoing support of water-efficient products, programs and practices, while keeping consumers' needs top-of-mind.
Moen is part of Fortune Brands Home & Security, Inc. (NYSE: FBHS), which creates products and services that help fulfill the dreams of homeowners and help people feel more secure. The company is a leader in the home and security industries and features well-known and trusted brands like Moen® faucets, Master Lock® padlocks and security products, MasterBrand Cabinets™, Therma-Tru® entryway systems and Simonton Windows®. For more information, please visit http://www.fbhs.com.
WaterSense is a registered trademark of U.S. Environmental Protection Agency (EPA).
Contact:
Kristi Stolarski or Alissa Kiktavy
Falls Communications
(216) 696-0229
kstolarski(at)fallscommunications(dot)com or akiktavy(at)fallscommunications(dot)com