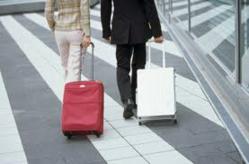 Goodnighties anti-microbial fabric also moisture-wicks and is wrinkle resistant
Highland Park, Illinois (PRWEB) November 16, 2012
For gifts; "good things come in small packages" an adage that works especially well when referring to Goodnighties Recovery Sleepwear. America's newest high-performance sleepwear made with custom fabric is easily folded tightly or rolled taking up very little space in all sizes of luggage. Made with a patented custom fabric ionized for better sleep it 'moisture-wicks' to keep one dry (and asleep) and most important to travelers; is anti-microbial and wrinkle resistant. Many call this a 'dream' fabric – traveler's call Goodnighties pajamas a 'must-have' garment. Goodnighties calls it the perfect gift especially this year.
Despite a sluggish U.S. economy, AAA predicts 43.6 million travelers will be venturing at least 50 miles from home over the upcoming Thanksgiving holiday – a .07 percent increase from last year. Whether a flight or road trip, price is always a consideration along with good value and Goodnighties like no other garment provides useful attributes never before found in sleepwear.
"Goodnighties is really catching on in the Travel industry. Many customers have called to tell us how much they appreciate the fabric. Being anti-microbial is just perfect for travel and everyone finds they sleep better too!" said Marcia Bacon, Goodnighties founder and lead designer. "We are also getting calls from hotel gift stores and cruise ships who are interested in carrying Goodnighties" she continued.
Travel and fatigue disrupts a person's circadian rhythm. According to Medicinenet.com, "a tiny part of the brain called the hypothalamus acts like and alarm clock to activate various body functions such as hunger, thirst and sleep. It also regulates body temperature, blood pressure, and the level of hormones and glucose in the bloodstream." When one is able to sleep better through Goodnighties Recovery sleepwear some of these symptoms will be minimized making your trip more enjoyable.
Goodnighties is not just for travelers. Women suffering from symptoms of menopause love the soft breathable fibers in this fabric. Men and women love the non-binding moisture-wicking feature and those with the burden of illness are resting more comfortably.
Goodnighties is sold as separates to mix & match for sizes styles and colors. For more information http://www.goodnighties.com.