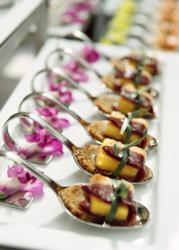 Rodney, you put together a menu that exceeded all our expectations, and you were great to work with.
Toronto, Ontario (PRWEB) November 20, 2012
With the season of giving back just around the corner, Toronto-based caterer Impeccable Taste introduces an extensive range of eco-friendly alternatives to traditional catering methods. Recently, the premier events management service provider announced that it has found economical, sustainable solutions for clients interested in going green.
In addition to using local produce and china/glass platters wherever possible, Impeccable Taste Catering in Toronto now offers one hundred per cent biodegradable disposable plates, bowls and utensils.
Rodney Kaufman, President & Executive Chef of Impeccable Taste, says: "Reducing the carbon footprint is becoming increasingly important to our clients in Toronto. Catering with eco-friendly options to accommodate 'green' requests has become a primary mandate for us. Ultimately, our goal is to cut back on landfill waste while continuing to offer the same level of service."
The holidays are among us, so Impeccable Taste urges clients to take advantage of its sustainable approach when it comes to event planning. As one of Toronto's leading corporate caterers, the company aims to meet and exceed expectation by preparing detailed quotes in 24 hours or less. From tantalizing hors d'oeuvres or a custom-designed seasonal menu, to a full holiday spread with bespoke decor, the professionally trained team at Impeccable Taste Catering will present a variety of options geared toward the creation of truly memorable, eco-friendly office functions.
As a caterer with a conscience, Impeccable Taste also believes in giving back to the community. Recently, the company donated thousands of dollars worth of food to help clients raise hundreds of thousands of dollars for their United Way campaigns.
To find out more about Impeccable Taste's environmental initiatives or to plan your upcoming holiday event, visit itcatering.ca today.
Impeccable Taste Catering consistently delivers quality food that looks as good as it tastes. As far as catering services in Toronto, service, quality and presentation, like the name suggests, is impeccable, and each event is custom-tailored to suit the unique needs of each customer. Impeccable Taste Catering works with private individuals, companies and corporations in Toronto and the wider Greater Toronto Area markets. Services include expert event planning and catering for casual lunches, seminars, conferences, product launches, release parties, corporate affairs and weddings, among other social events. Born out of the philosophy that exceptional food must not only be meticulously prepared, but also artfully presented, our service offerings include colourful, eclectic and progressive menu options. Visit itcatering.ca for more details.