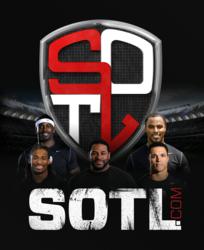 "What Adrian Peterson is doing is nothing short of miraculous," said Jerome Bettis
Nashville, TN (PRWEB) November 16, 2012
SOTL.com, The Voice of the Players, releases new installments of NFL player blogs. NFL players continue to share their passions off the field with various blogs and topics on their website at SOTL.com
Cardinals cornerback Patrick Peterson shares his love of cars in his video blog as he reviews RC (radio-controlled) model cars. Peterson grew up collecting these cars and gives us a peak into his love of cars, big and small.
"I first got into RC cars back when I was about 8 years old, and my next door neighbor started off with the gas RC cars," said Peterson. "I used to always see him running them around the neighborhood. I thought it would be a good hobby, and now I find myself collecting them."
To watch Peterson's video blog, visit: http://www.sotl.com/blogs/read/170750/patrick-peterson-rc-cars
In addition, NFL Legend Jerome Bettis shares his thoughts on Adrian Peterson's comeback season and the Jets season in this week's blog.
"What Adrian Peterson is doing is nothing short of miraculous," said Bettis. "To be the NFL's leading rusher after the type of injury he had is unprecedented. When you look at virtually every running back who came back from an ACL tear, it was a gradual progression to return to form. But his 171-yard game Sunday against Detroit shows he has had zero drop-off."
And Denver Broncos Eric Decker and fiancé Jessica James have a new video installment where they share their favorite recipe. To read all the player blogs and watch video blogs, visit http://www.SOTL.com.
More About School of the Legends / SOTL.com and SOTLTraining.com
SOTL.com was founded in 2009 as a social media and news site, an Officially Licensed Product of the NFL Players Association, and serves as "The Voice of the Players"™ with more than 2,500 current and former players contributing to the site. SOTL.com features weekly football and lifestyle blogs by dozens of NFL players and alumni, including Jerome Bettis, Barry Sanders, Patrick Peterson, Will Smith, Dwayne Bowe, Cliff Avril and others. SOTL.com is the player's site where they comment directly on football news stories of the day and contribute to exclusive player polls that give fans their perspective on the league's most important issues.
The sister site, SOTLTraining.com, is the premier online source for football training classes with the instructional video series "Legends in Training" that feature players such as Peyton Manning, Larry Fitzgerald and Tony Gonzalez to name a few as well as instruction from professional coaches and trainers. SOTL.com and SOTLTraining.com are official licensed partners of NFL Players, Inc.