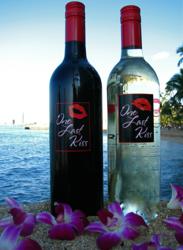 Scott Harvey Wines' One Last Kiss is reaching the highly-targeted demographic of 20-Something Women
Sutter Creek, CA (PRWEB) November 16, 2012
Popularity among millennial women caught Scott and Jana Harvey by surprise. Scott Harvey, known in Napa Valley and Amador County as a "master blender," has been using his winemaking skills for both a red and a white blend of One Last Kiss. since 2005. Every year since inception in 2005, he has produced about 500 cases of each blend. However the winemakers were recently caught by surprise by the sudden upswing in demand for their newest vintage of their wine blend, One Last Kiss.
One Last Kiss has always been a steady favorite, and we can usually plan for sales." said Jana Harvey, co-owner and Scott's wife. "But our Tasting Room staff keeps selling out—and we didn't know why until the knowing smiles among our Tasting Room visitors caused us to dig a little deeper."
In fact, Scott Harvey Wines is reaching the highly-targeted demographic of 20-Something Women because the name on the label has an appeal beyond its original connotation. "Haven't you heard of the singer Pink's hit, (Blow Me) One Last Kiss?" exclaimed one young woman who was out with friends for an afternoon of wine tasting. As it turns out, One Last Kiss is fast becoming a favorite for overcoming a recent break-up, celebrating new-found independence, or as a gift for the friend who is newly single. Fortunately, this year's prolific harvest makes it possible for Scott to create more of this popular blend and keep the wine's fans happy.
One Last Kiss: both a Red and a White Blend
"The style for my 2009 One Last Kiss Red is a lush Zinfandel blend, accentuating one of California's best varieties," said Scott Harvey. "A touch of port fills out the wine, making it well balanced and complete, with a rich and lingering finish." Made in a full bodied style, One Last Kiss Red Blend is full of spicy cloves and blackberry fruit. It goes well with all kinds of dishes including Mexican or Italian food, and, according to our new Millennial fans--chocolate.
About Scott Harvey Wines One Last Kiss White Blend, Scott continued, "I've always loved producing this Alsatian style blend. The Symphony grape brings a fruit forward beginning to the wine while the Chardonnay and Riesling make up the full-bodied finish." This blend tantalizes with tropical notes of kiwi, jasmine and passion fruit, adding a hint of citrus to create a flavorful wine with good balance and mouth-watering acidity. It is complemented by light style pastas, fish or chicken.
About Scott Harvey Wines Handcrafted wines from Amador County and Napa Valley, Scott Harvey Wines, established in 2004, features Vineyard 1869 Zinfandel, Napa Valley Cathedral Cabernet Sauvignon, Amador County Barberas, Zinfandels and Syrahs along with a variety of other one-of-a-kind white and red blends. Creator of "niche wines that over deliver," Scott Harvey, owner and winemaker, has been making quality wines for over 30 years.
###