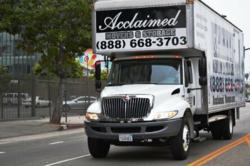 Los Angeles, CA (PRWEB) November 16, 2012
U.S. Census data released in October revealed that young adults 25-29 are the current primary market for out-of-state moving, a statistic confirmed by analytics compiled by Acclaimed Moving and Storage. Acclaimed has been seeing an increase in young clientèle moving from state to state, so much that the company has even expanded their long distance movers service with the acquisition of new moving trucks and equipment. Demographic consultants attribute the influx of young movers to the changing economy; as established professionals are struggling to recover from the economic recession, young adults are exploring opportunities in other cities as they've exhausted the avenues available to them presently and have less obligations to stay in place.
In the past year Acclaimed Moving and Storage has added new moving trucks and equipment to their fleet in order to better accommodate the expanding market for interstate moving. The company reports a notably high percentage of these out of state movers to be coming in from the East Coast, hoping to find job opportunities in Los Angeles and the Bay Area. Acclaimed analytics experts predict that the pattern of young adults migrating throughout the country will continue, as the housing market is another important factor in the decision to move and young adults are more inclined to rent. Most of the largest cities in the country have been growing at a faster rate than their surrounding suburbs for the first time in a century, which further supports the theory that young adults are seeking new jobs and low-risk living situations.
Many economists agree that the growing trend in national migration is a sign of the nation's recovering economy. The effects are already being seen in other industries, Acclaimed being an excellent example. Housing developers have also taken a cue from the changing market and have been focusing on developing low-rent units for young professionals. The dynamics of the market are so affected that some developers are seeking permission to rent out apartments as small as 220 square feet, little more than twice the size of some prison cells.
Acclaimed long distance movers provide flexible services that can fit the needs of young adults moving from state to state. The new trucks open up the company's options for providing interstate relocation services, an expansion that makes the luxury moving service available at more affordable rates. As the nation's migration trends continue to change, Acclaimed and other long distance moving companies continue to mold and expand their services to promote migration and, in turn, provide a major conduit for interstate commerce and opportunity.